Notes from the December 1887 Sword and Trowel
Image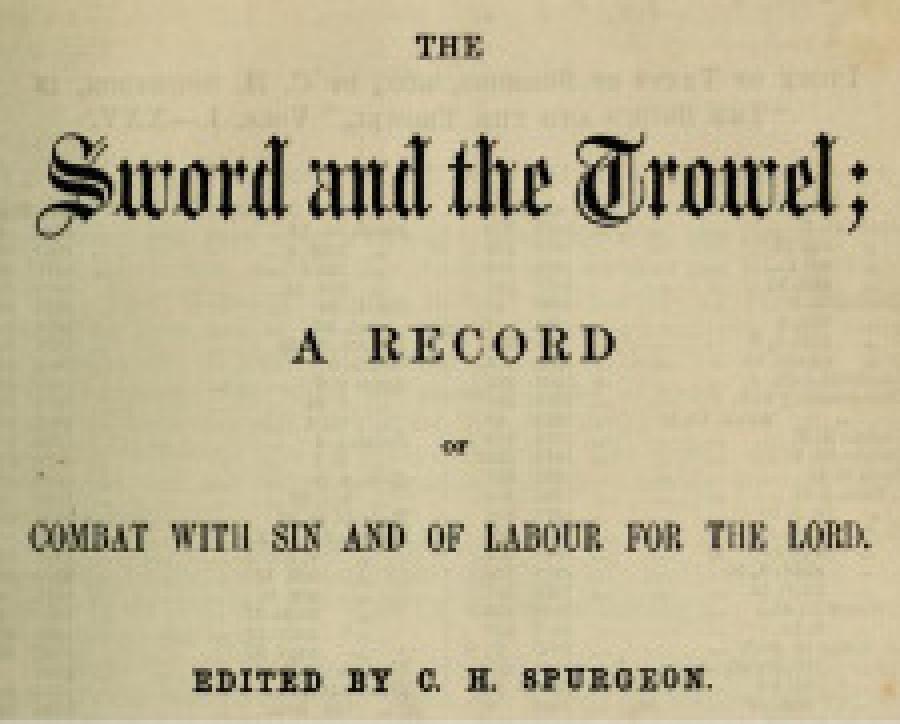 The very first thing must be to speak up for our orphans concerning their treat for Christmas. Just before leaving England we had boys and girls together, such a company, and we had a little treat; but we promised that, whether C. H. S. could be with them on Christmas-day or not, we would try and make it a glorious day for them. Will our friends again bedeck the tables of the fatherless on the day of universal joy? The friend who used to give a new shilling to every orphan is not now able to do it: for which we are truly sorry. Is there no other large heart endowed with a large purse? It takes £25 to give a shilling each all round, but it is such a help for pocket-money for quite a time after, that we would like to keep it up. Ladies and gentlemen, between the ages of 99 and 4, all and sundry of you, we, the Stockwell five hundred, both lads and lasses, will thank you if, by gifts of money, or goods, you will help us to a happy Christmas-day in 1887. Thank you five hundred times over for having done so in years gone by. Mrs. Spurgeon will be glad to receive the Christmas money-gifts, and to reply for us. Presents in kind should be directed to Mr. Charlesworth, at The Orphanage, Stockwell.
The Sword and the Trowel volume for 1887 will be ready on Jan. 1. It has made history and recorded it. At five shillings it is not dear, and it makes a fine addition to a library.
Messrs. Hollings and Brock, of 22, Paternoster Row, are the advertisement agents for this magazine, and they ask us to note the large number of literary advertisements contained in this month's wrapper. All sorts of good things are mentioned; indeed, they make up quite a complete catalogue of Christmas requirements in the line of books, cards, etc. We hope friends will patronize them. The publishers are ever ready to advertise with us, because they value our notices of their books. Necessarily short, our remarks are not, therefore, superficial: the utmost care is taken to judge correctly. We are not infallible, but we are indefatigable. Of course, our point of view is well known, and we do not pretend to look from any other; but a plain and honest statement of opinion is evidently valued, even though at times it may be unfavorable, and therefore may be considered severe. We never yet heard of a drummer who could flog a man so that he liked it, and therefore we do not expect sharp criticism to be admired by the author who receives it; but, on the whole, we have been graciously tolerated even by those who have been disappointed.
The following letter was read at the Tabernacle on Sunday, November 13:—
Dear Friends at Tabernacle,—I have only left you a few days, but I am already rested by anticipation of rest to come. I wish to thank you all most heartily for your constancy of love during four-and-thirty years of fellowship. We have been many in number, but only one in heart, all through these years. Specially is this true in the present hour of controversy, for my heartiest sympathizers are in my own church. Several enthusiastic ones proposed a general meeting of church-members, to express their fervent agreement with their Pastor: but the ever-faithful deacons and elders had taken time by the forelock, and presented to me a letter signed by them all as representing their brethren and sisters. Such unity comes from the grace of God, proves that his blessing is now with us, and prophesies future happiness. What can I do but thank you all, love you in return, labor for you as long as strength remains, and pray for you till I die? The infinite blessing of the Eternal God be with you for ever!

Your grateful Pastor,
C H. SPURGEON
We give the document alluded to in the above letter. It would have been worded far more strongly, but the Pastor is always for great brevity in expressions concerning himself, and his wishes caused many a glowing paragraph to be struck out. There was a general feeling that the officers would like to make the utterance more forcible; but they added that even then it would fall far short of the warmth of their feelings.
Metropolitan Tabernacle,
Newington, S.E.,
October 27th, 1887

Resolved:—'That we, the deacons and elders of the church, worshipping in the Metropolitan Tabernacle, hereby tender to our beloved Pastor, C. H. Spurgeon, our deep sympathy with him in the circumstances that have led to his withdrawal from the Baptist Union. And we heartily concur in our sincere appreciation of the steadfast zeal with which he maintains the doctrines of the gospel of our Lord Jesus Christ in their inspired and apostolic simplicity.
Signed by the Co-Pastor, together with all the Deacons and Elders. At subsequent meetings the above was not deemed adequately to express the affection, confidence, and esteem cherished by all the church officers towards their beloved Pastor and leader, they, therefore, unanimously agreed to the following addition:—
Our former resolution was passed with unanimous and unhesitating concurrence. But, touching only on one point, it was generally thought inadequate to convey to you, our dear Pastor, a full sense of the affection, the confidence, and the esteem in which you are held by us all. Of this, however, we can offer you no more fitting exposition than the readiness of each and every one to approve ourselves as 'Helps' in the diversified gifts, administrations, and operations of the Holy Spirit with which you have, after the divine order, been so largely entrusted.

And it may not be altogether inappropriate, or inopportune, to record our conviction that you have done good service, on a wide and constantly-widening scale, by affirming the inspiration of the Holy Scriptures of the Old and New Testament; by inculcating the doctrines of grace, as taught by the apostles of our Lord Jesus Christ under the immediate guidance of the Spirit of God; and by preserving in our midst the uncorrupted simplicity of public worship.

Permit us to add our fervent hope, and our devout prayer, that your vigorous protests against the innovations of 'modern thought' in pulpits supposed to be orthodox, will eventually largely promote the unity of the churches of Christ throughout the world."
Certain antagonists have tried to represent the Down-Grade controversy as a revival of the old feud between Calvinists and Arminians. It is nothing of the kind. Many evangelical Arminians are as earnestly on our side as men can be. We do not conceal our own Calvinism in the least; but this conflict is for truths which are common to all believers. This is no battle over words, but it deals with the eternal verities—those foundation truths which belong not exclusively to this party or to that. It is of no use attempting to drag this red herring across our path: we can argue other points and maintain Christian harmony at the same time: but with those who treat the Bible as waste paper, and regard the death of Christ as no substitution, we have no desire for fellowship. We have come out in earnest protest, and feel great content of conscience in having done so.
The barefaced manner in which certain persons assert that to separate front men who hold vital errors is contrary to the mind of Christ, would be amusing if it were not saddening. They write as if such a Book as the New Testament were not in existence: they evidently decide what the mind of Christ ought to be, without referring to such poor creatures as the apostles. As for us, we think more of Paul and John than of the whole body of modern thinkers. What saith the Scriptures? "If there come any unto you, and bring not this doctrine, receive him not into your house, neither bid him God speed: for he that biddeth him God speed is partaker of his evil deeds." (2 John 10, 11.) "But though we, or an angel from heaven, preach any other gospel unto you than that which we have preached unto you, let him be accursed. As we said before, so say I now again, If any man preach any other gospel unto you than that ye have received, let him be accursed." (Galatians 1:8, 9.) The spirit of Scripture is one, and therefore we may be sure that decision for truth, and separation from the erring, are in full consistency with the charity of 1 Corinthians 13, to which we are so continually pointed. It is true charity to those who err to refuse to aid and abet them in their errors. "Charity" sounds very prettily in the mouths of those who wish to screen themselves, but, if they had exercised it in the past, they might not have driven us out from among the people, to whom we naturally belong.
Whether other ministers are going to leave the Union also remains to be seen. We do not expect that they will do so; but we trust that, if they remain, they will resolve that reform shall be carried out, and truth vindicated.