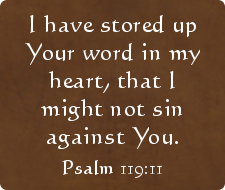 The church leadership at Highland Park Church recently agreed to launch a congregation-wide Scripture memory plan. What follows is part of pastor Ed Vasicek's commuication to the congregation, describing the plan and its purpose. Perhaps it may stimulate ideas for church-wide Scripture memory efforts in other churches as well. – Editor.
Camp Emmanuel is different from most "church camps" in that is more of a Bible camp than a church camp. The kids compete for team points through Scripture memory, and Bible is central. AWANA is different from many church clubs in that it, too, is centered on Bible memory.
But what about the rest of us? Is Bible memory only for kids who can memorize more readily? Are the rest of us spiritually over the hill when it comes to Bible memory? We may not be able to teach old dogs new tricks, but our church is not a dog park! We humans do learn and memorize more slowly as we age, but we can still learn—we just need to make sure the pole is not set too high.
The elders are happy to announce that Terry Watson will lead our church in a new emphasis for 2016: Memorizing the Word. The elders (of which Terry is one) are enthusiastic about this emphasis for 2016.
Psalm 119:11, 97-99 suggests that memorizing Scripture has a big part to play in our attempt to live with discernment, wisdom, and godliness:
I have stored up your word in my heart, that I might not sin against you… Oh how I love your law!  It is my meditation all the day. Your commandment makes me wiser than my enemies, for it is ever with me. I have more understanding than all my teachers, for your testimonies are my meditation.
I know what you are thinking: drudgery, boredom, stressful mental expenditure. Don't be afraid: we are not going to try to memorize the entire Bible, whole books, or even chapters. Our plan is quite modest, and we believe you will find it invigorating, not draining. 
Like sampling the biggest and best peaches from a healthy peace tree, we are going to indulge in a few brief, choice, sweet passages—working on one passage per month. And we are going to work on this right in church, for about 2 and a half minutes per week.
Many of us intend to memorize verses and work harder at being a disciple of Jesus Christ. Yet, at the same time, some of us barely find time to attend and participate in church life! On the other hand, some of us could make time to memorize God's Word, but we are either not motivated enough to do so or not disciplined enough to make it happen. Other activities and happenings take priority.
Because of our propensity toward unfulfilled good intentions, taking two and a half minutes a week in church is a good investment of time. Once you get a few verses down, you might feel so much better about your walk with God that this starts a positive spiritual momentum in your life. It happens that way—and not rarely.
How to Memorize Scripture
What is the best way to memorize a passage? I am not sure what the best way is, but let me share a way that has worked well for me.
Start with the reference. After learning the reference, recite just the first phrase of the passage, beginning with the reference. Recite it repeatedly. Once you have gotten down the first phrase and have successfully quoted it accurately, add the next phrase. Always start at the beginning: reference, phrase one, and phrase two.  If you mess up on a word, note that, go back to the beginning, and start again. Then keep adding more phrases, always reciting from the beginning.  Do not move on until you have a series of phrases down word perfect.  
Some of you might want to delve further into Scripture memory— well beyond what we are going to do in church. Perhaps you want an advanced challenge—memorizing a chapter or entire book of the Bible?
Scripture memory is the legacy of believers from at least the time of Moses. Ancient Jews memorized the entire Torah.  The New Testament believers were memorizers, too. Even as late as the 4th century, Jerome (speaking of memorizing Scripture) wrote, "When by diligent meditation we store away the book of the Lord in our memorial treasury, our belly is filled spiritually and our guts are satisfied" (Thomas Meyer, Oral Transmission in Judaism and Christianity, 41).
Some modern believers have memorized the entire Bible, such as the evangelist Jack Van Impe. I have known a number of believers who have memorized entire books—Romans, for example. Many more believers have memorized Bible chapters, like Psalm 23 or Romans 8. Those goals might seem too lofty for many of us, but, if you are interested in doing so, I recommend the e-book, "How to Memorize Scripture" by Jacob Friedman. It suggests a number of "tricks" to make Bible long-passage memory easier. This is a useful tool, available only as a Kindle download (costs only .99) through Amazon.
Although the elders are currently choosing the passages we will focus upon on Sunday mornings in 2016, one sample passage might be John 14:6-7,
Jesus said to him, "I am the way, and the truth, and the life. No one comes to the Father except through me.  If you had known me, you would have known my Father also. From now on you do know him and have seen him."
Taking that passage in sections, we will memorize it over a month's period. Terry Watson will generally lead us in the process, as mentioned above.  It will be exciting to see how God uses this in our lives and in the life of our church.
4739 reads