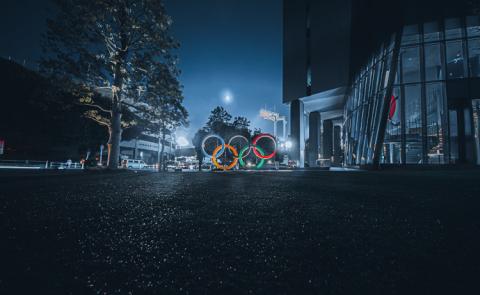 By Jordan Standridge, reposted from The Cripplegate.
How many takes have you seen about Simone Biles and her decision to drop out of several events at the Olympics?
Everyone seems to have an opinion.
There are people that are angry at her. There are people that are thankful for her. There are people calling for more discussions about mental health. There are people blaming the horrid sexual abuse she experienced at the hands of Nassar. It seems like everyone is talking about it.
I happen to be re-reading Hamilton's brilliant biography on Eric Liddell called For the Glory right now. And though Eric Liddell has always been a favorite missionary of mine, and his biographies have brought me often to tears, I never truly grasped the vitriol his country leveled at him after pulling out of the Olympics, as much as this week, after watching the response to the Biles situation.
The biographers tried to make it clear in their writing. They explained that he was called a traitor. They explained that he received death threats. They explained that every single newspaper had the front page dedicated to him. They explained that everyone in Scotland became a biblical scholar overnight trying to prove from their dusty Bibles that the Bible doesn't say you can't run on Sundays. But I think this Simone Biles situation gives a little insight on exactly how impactful his decision was.
And it helps us see how faithful Eric Liddell was to Christ.
Not only did he give up a potential medal for the sake of his love for God, but after the Olympics he decided to give up his life for His sake. He gladly gave up his own glory for the glory of God.
One biographer, I read years ago, recounted the story of Liddell's first speaking opportunity. Though a known introvert (some, even his own parents! questioned his love for Christ as he never spoke openly about his faith), he was asked to speak at a rugby outreach (he was on the Scottish national Rugby team). When asked, the story goes, he sat down on a chair and cried as he thought about it for several minutes, before finally raising his head and saying, "I'll do it". He went on to become a sought-after speaker who was unashamed of the Gospel and even preached in Paris on the Sunday he was supposed to run his 100 meter race at the Olympics.
It was clear that for Liddell, running for gold came second to running for Christ. And it was this eternal mindset that caused so much uproar in the minds of those living for this life.
A different biographer, remarked that he pictured Eric Liddell, leaving Paris with a medal around his neck (remarkably won in the 400-meter race) on a train back home, wondering to himself how Scotland would react this time when they find out he had purchased for himself a one-way ticket to China.
Obviously, I'm not trying to compare Eric Liddell and Simone Biles as their situations were very different, but the incredible number of opinions about her actions this past week helps us grasp how monumental Eric Liddell's decision was less than a hundred years ago and helps us grasp how incredible his love for Christ was.
I hope that you are reminded about how pointless it is to live for this life.
Eric gladly gave up fame and fortune in this life to gain it in the next. He set aside his comfort for the sake of seeing Chinese souls exalt Christ. He was willing to have his whole country turn against him (twice!) for the sake of trying to turn a country to Christ.
I am reminded about Jesus' words in Matthew 16:26,
For what good will it do a person if he gains the whole world, but forfeits his soul? Or what will a person give in exchange for his soul?
I'm sure Eric had these verses reverberating in his heart as he made his eternal minded decisions not so long ago. And I pray that we too pick up his baton and like him are willing to give up the world for the sake of our soul and the souls of many lost around the world.
Photo by Ryunosuke Kikuno on Unsplash
---
Jordan is a missionary in Rome, Italy. He and his wife Jenny have 4 children: Davide, Matteo, Nico, and Gabriella. Check out their website at Standridge.org.
2919 reads