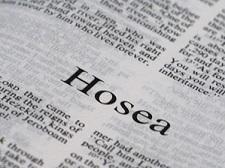 Read the series so far.
2. God's Love is Urgently Needed, 1:3-9
God's people were living in prosperity and carnal ease, and God had to awaken them to the need of His love.
So he went and took Gomer, the daughter of Diblaim, and she conceived and bore him a son. And the LORD said to him, "Call his name Jezreel [REJECTED], for in just a little while I will punish the house of Jehu for the blood of Jezreel, and I will put an end to the kingdom of the house of Israel. And on that day I will break the bow of Israel in the Valley of Jezreel." She conceived again and bore a daughter. And the LORD said to him, "Call her name No Mercy, for I will no more have mercy on the house of Israel, to forgive them at all. But I will have mercy on the house of Judah, and I will save them by the LORD their God. I will not save them by bow or by sword or by war or by horses or by horsemen." When she had weaned No Mercy, she conceived and bore a son. And the LORD said, "Call his name Not My People, for you are not my people, and I am not your God." (Hosea 1:3-9)
Hosea and Gomer's Children
The blazing center of the power of Christ's gospel is that it transforms us. God wanted to awaken Israel to their dire situation, so He essentially tells Gomer to name her children:
Scattered, or Rejected—son
No mercy or Criminal—daughter
Not my people or Illegitimate Child—son
Can you imagine? "Illegitimate child" get over here. "Criminal" get over here. Hey you, "Rejected," come here. This is not comical though, because this is God's solemn and holy judgment. Those who are not transformed are judged. But Israel wasn't changing because they were comfortable.
In the prophecy of Amos we get a picture of the security and luxury in which the people of Israel lived. In Amos 6 we read warnings which also describe the affluent lifestyle these people were enjoying: "Woe to those who are at ease in Zion, and to those who feel secure on the mountain of Samaria, the notable men of the first of the nations, to whom the house of Israel comes!" (Amos 6:1).
It was the best of times. Materialism was reigning. Those who were rich and powerful abused the poor by legal manipulation and got richer while the poor got poorer. There seemed to be no end to the prosperity of Israel.
Israel Needed a Wake-up Call!
God's people were satisfied with their syncretistic worship of Baal and Jehovah. The future church of Laodicea had a similar blinding self-satisfaction. 
I know your works: you are neither cold nor hot. Would that you were either cold or hot! So, because you are lukewarm, and neither hot nor cold, I will spit you out of my mouth. For you say, I am rich, I have prospered, and I need nothing, not realizing that you are wretched, pitiable, poor, blind, and naked. I counsel you to buy from me gold refined by fire, so that you may be rich, and white garments so that you may clothe yourself and the shame of your nakedness may not be seen, and salve to anoint your eyes, so that you may see. Those whom I love, I reprove and discipline, so be zealous and repent. (Rev. 1:15-19)
However, it was also the worst of times for Israel. The religion of the Israelites became void of any truth and sincerity. We read about that in Amos 5:21-24. Here God rebukes the Israelites.
I hate, I despise your feasts, and I take no delight in your solemn assemblies. Even though you offer me your burnt offerings and grain offerings, I will not accept them; and the peace offerings of your fattened animals, I will not look upon them. Take away from me the noise of your songs; to the melody of your harps I will not listen. But let justice roll down like waters, and righteousness like an ever-flowing stream. (Amos 5:21–24)
The Final Child, a Boy—Not My People
The final child born to Gomer is "Not my People" or "Illegitimate Child." Now He says: "you are not my people, and I am not your God" (1:9). YHWH had called Abraham—a man justified by faith, who lived by faith. Yet this nation was like a prostitute. She gave herself to her neighbors for the luxuries they could bring. She said that YHWH was her God, but the truth is, she was like an illegitimate child.
Can you imagine when Gomer gave birth? "Hosea, dear, what should we name your new born son?" asked Gomer. Hosea replied, "Call him 'Not My People' for he is the son of a prostitute." And so Israel was acting like a harlot. She was acting as if she had no husband. She was bearing illegitimate fruit. They called themselves believers in the Most High God, and yet they were "high" on the sins and lusts and lies of the world. They considered themselves genuine followers of the Lord, but their lives did not match up. Anyone who consistently practices unrighteousness is truly not God's child, and He is not their God. This was true in Hosea's day, and it is true in our day.
The Self-Deceived
If one great message looms over the book of Hosea, surely is it not this message: that it is amazingly easy for people, even well-instructed and sophisticated people, to think that they are saved; to satisfy themselves that all is right between themselves and God, when they are not, and it is not. Israel, when Hosea began his ministry, was at peace with itself, confident in its own rightness and its safety, and was utterly unaware that in a few years it was to be obliterated by the wrath of God.
No, it is not enough to say that, according to the Bible, church-goers often think themselves saved when they are not. It would be truer to the Scriptures to say that almost always most people in America's churches, who are numbered as church members are, in fact, self-deceived, and are not saved and not right with God.
I do not say that that is the case in a living congregation of Christian people, where the Word is believed and Christ is exalted as Savior and Lord. I do not say that it is so in every congregation. But there are certainly a great many.
Are You Spiritually Stagnant?
Are you self-contented and satisfied with where you are spiritually? Are you bored spiritually? Are you stagnant? Are you backslidden? These are hard questions. The answers are not hard to find.
It is reading the Word of God—its promises, its commandments, its history, its warnings, its encouragements—and applying them to our lives. This is something which, we must confess, very often we do not do, even when we are reading the Bible.
3. The Love of God is Unrelenting, 1:8-2:1
God will stop at nothing to reverse your curse. In Hosea 1:9, God gives the greatest curse possible to this people and says, "I am not your God." Gomer is unreconciled with Hosea, living in harlotry. In Hosea 3:1-2, God commands Hosea to buy Gomer back, and the prophet pays for her life!
Hosea 1:8-2:1:
When she had weaned No Mercy, she conceived and bore a son. And the LORD said, "Call his name Not My People, for you are not my people, and I am not your God." Yet the number of the children of Israel shall be like the sand of the sea, which cannot be measured or numbered. And in the place where it was said to them, "You are not my people," it shall be said to them, "Children of the living God." And the children of Judah and the children of Israel shall be gathered together, and they shall appoint for themselves one head. And they shall go up from the land, for great shall be the day of Jezreel. Say to your brothers, "You are my people," and to your sisters, "You have received mercy."
Jezreel: Scattered Seed
Jezreel not only means scattered, but it means seed. So there is a play on the name here. You who are scattered into captivity will be scattered like seed! You will multiply! You will be blessed! So we see a reversal of the curse.
To prove God's intention in reversing Israel's curse, He quotes His original promise to Abraham in Genesis 13:16, "Yet the number of the children of Israel shall be like the sand of the sea, which cannot be measured or numbered" (Hos. 1:10). This is the glorious Abrahamic Covenant spoken of in Galatians 3:29. It is there we find that Jesus is the ultimate Seed and that if we are in Him, we get all the good promises God gave His people in the Old Covenant.
Christ Appointed as Head of the Church
We see the words of the curse upon Israel are reversed and words of hope are issued. The hope centers on a Person under whom both Judah and Israel will be united. Who is this Person and what does this promise mean? Christ is appointed as the Head of the church! Christ is directly mentioned here: "they shall appoint for themselves one head" (2:11). This reminds us of many of the glorious New Testament proclamations, like the one in Ephesians 1:22-23, "And he [God] put all things under his feet and gave him as head over all things to the church, which is his body, the fullness of him who fills all in all."
Hosea's Children Fulfilled in the Church
The ultimate rescue of Hosea's children, according to the apostles, occurs in the times of the New Testament Church. The inspired authors of the New Testament, saw the play on the names of Hosea's children as being ultimately fulfilled in Christ and His His Church. Note the following references to Hosea 1 in the NT. There are two.
1 Peter 2:9–10—But you are a chosen race, a royal priesthood, a holy nation, a people for his own possession, that you may proclaim the excellencies of him who called you out of darkness into his marvelous light. Once you were not a people [Lo Ammi], but now you are God's people; once you had not received mercy [Lo Ruhammah], but now you have received mercy.
Romans 9:24–26—even us whom he has called, not from the Jews only but also from the Gentiles? As indeed he says in Hosea, "Those who were not my people [Lo Ammi] I will call 'my people,' and her who was not beloved [Lo Ruhammah] I will call 'beloved.'" And in the very place where it was said to them, 'You are not my people,' there they will be called 'sons of the living God.'
God's Beloved Sons and Daughters
We who have come by faith to Christ fulfill the promise of Hosea. We are the beloved sons and daughters of the living God! We were once not His people, but now we God's beloved children! God stopped at nothing to purchase Israel back. The events of Hosea 1 are actually gospel promises that come to pass when God, through the Jews, reaches the Gentiles. Both Jews and Gentiles are called by grace through faith to become the true people of God.
Conclusion: We Are the Prostitute
What a shocking love story that ultimately points to the greatest love story in God's Son laying down His life on the cross for an unworthy and unfaithful bride. In the symbolism of Hosea, God is the prophet and we are the prostitute. In a very real sense I am Gomer and so are you! We are unfaithful people who deserve God's wrath, not His mercy.
But Jesus has become our Jezreel (Scattered), our Lo Ruhammah (No Mercy), and our Lo Ammi (Not My People). Christ took our judgment and was cut off from God in order that we might have God's mercy and be called God's people!
---
Matt Black is originally from Oak Forest, Illinois  though he spent much of his growing up years in Ponchatoula, Louisiana.  He studied theology and Spanish for his undergrad and is currently pursuing graduate studies at Reformed Theological Seminary. He is a candidate for certification with the Association of Certified Biblical Counselors (ACBC). He and his wife Jill have three daughters and two sons.
911 reads
2212 reads