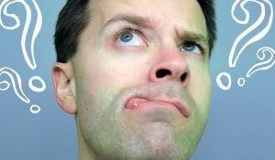 "Awake, awake, Deborah: awake, awake, utter a song!" (Judg. 5:12). My college friend read me this verse. He had been praying about getting married. All of us Bible college dorm students had been praying about getting married. The Lord had told him to marry Debby. As he was praying for guidance, he opened his King James and his eyes fell upon this verse. It had to be God's direction. I replied that it was a good thing he was in love with a Deborah. If he had been in love with a Gertrude, how could God have given him direction?
Do you ever wish God would just come out and tell you what to do? Where should I go to school? Which job should I take? What should my major be? Should I have the surgery? Which car should I buy? Should I go to the mission field? Which mission field? Where should I go for lunch today? The list is endless. The options are confusing. A mistake can mean anything from an upset stomach to a life of regret. Doesn't God want us to make the right decision?
While David was trying to avoid a confrontation with Saul, a Philistine raiding party was plundering the nearby harvest. Should David expose his location and engage the enemy? David's men voted no. David asked God. God told David to go. How did God tell David to go? We are not told, but a little later Abiathar the priest arrived with "an ephod in his hand" (1 Sam. 23:6) and then David's requests became even more specific.
David knew that Saul was plotting harm against him. And he said to Abiathar the priest, "Bring the ephod here." Then said David, "O Lord, the God of Israel, your servant has surely heard that Saul seeks to come to Keilah, to destroy the city on my account. Will the men of Keilah surrender me into his hand? Will Saul come down, as your servant has heard? O Lord, the God of Israel, please tell your servant." And the Lord said, "He will come down." Then David said, "Will the men of Keilah surrender me and my men into the hand of Saul?" And the Lord said, "They will surrender you." (1 Sam. 23:9-12)
That is guidance. That's what I'm looking for. Just direct answers to my simple questions. Where do I get one of those ephods? Israel's High Priest had one. "The" ephod is described in Exodus 28. Over it went "the breastplate" which contained the "Urim and the Thummim." One possible definition of Urim is lights and one possible definition of Thummim is perfection. Together they could mean perfect illumination. The Urim and the Thummim are only mentioned eight times in Scripture, with no hint as to how they provided guidance. Blinking lights perhaps? Green for yes, red for no?
The Old Testament also refers to other ephods, some used to give guidance, others that were counterfeit. How they gave guidance we are not told, but they sure came in handy. Besides ephods and Thummims, there were other avenues of Divine revelation: casting lots, dreams, visions, voices, visitations, and even donkeys. God also used burning bushes, fleeces and a giant finger writing on the wall. The writer of Hebrews acknowledges, "Long ago, at many times and in many ways, God spoke to our fathers" (Heb.1:1).
None of us expect God to use linen ephods or Urim and Thummim anymore. Most of us don't expect donkeys or a pair of dice to give us direction. We are less sure about dreams, fleeces and voices (especially still, small ones). But God does not promise to use any of these means anymore. Instead, the Bible says that "in these last days he has spoken to us by his Son" (Heb.1:2).
Don't envy those of old who heard voices and saw visions. Peter says, "we have something more sure, the prophetic word, to which you will do well to pay attention" (2 Pet. 1:19). The less sure thing he was referring to? The voice of God he heard while on the Mount of Transfiguration (1:17-18). The Word is surer than eyewitness testimony (1:16). Holy Spirit-inspired Scripture is the way that God speaks today (1:20-21).
In their book Guidance and the Voice of God, Phillip Jensen and Tony Payne write that "God speaks to us today by his Son through his Spirit in the Scriptures" (p. 87). "How is God going to guide me? By talking to me. How do I hear his voice? By reading the Scriptures" (p. 91). Using 2 Timothy 3:16-17 as their basis they ask, do the Scriptures "show me the way I should go? They most certainly do, for they teach me how God wants me to live. They rebuke me when I depart from the way. They correct me to show me the way back. They train me in the right way to go" (p. 92).
We have the inspired Word of God to give us guidance. Does this mean my college friend was right in his use of the Bible? No. He was asking the wrong question. The Bible does not tell us what car to buy, where to live, what job to take, or whom to marry.
If we don't find the specific answers to our specific questions, then how does the Bible guide us? It provides us with wisdom. Instead of telling us what kind of car or house to buy, the Bible tells us to be content and warns us about excessive debt. Instead of telling us what job offer to accept, it tells us not to be involved with anything dishonest or that takes advantage of others. Rather than tell us whom to marry, it instructs us not to marry an unbeliever and describes how a godly mate behaves.
First Corinthians chapter seven is Paul's most lengthy treatment of marriage. After giving detailed instructions he comes to the end and writes that a widow is free to marry anybody she wishes, as long as he is a believer. That is biblical guidance. We may desire a more a specific answer, but God has not promised to provide such. We walk by faith and not by sight.
Sadly, my college friend and his wife are now divorced. His divine answer wasn't the guarantee he was looking for. I hope he isn't blaming God.
---
Greg Wilson
is now in his twelfth year as senior pastor of Community Bible Church (Palmyra, PA). He has B.R.E. from Midwestern Baptist College (Pontiac, MI) and also studied at Southern Seminary (Louisville, KY). He has been married to Sharon for over 26 years. They have two married daughters and a sixteen-year-old son.
1220 reads