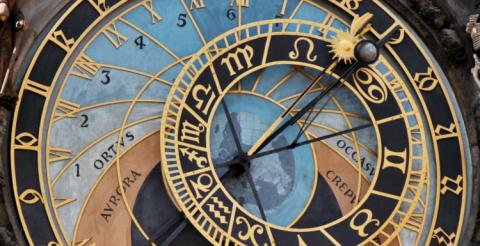 There's a little book in our church book store called "Time and the End of Time." The cover and the title have attracted my interest, and several times I've picked it up to take a look at it. It was written by John Fox in 1676—not to be confused by the John Foxe of Foxe's The Book of Martyrs.
Fox's book is divided into Two Sections or Discourses: the first discusses the reasons why Christians ought to redeem their time; the second brings to focus the truth of our "latter end." For the moment, you can read "Time and the End of Time" online here.
I should point that I haven't read this book. This isn't a book review. However, one thing which caught my eye was Paul Washer's endorsement:
It [the book] is a theological treatise teaching us to live for the glory of God as wise stewards who have been given both time and resources to administer. The author writes pastorally as one who truly cares for our souls. Not only does he provide practical advice, but he also pleads with us to live for eternity and to walk circumspectly as those who will have to give an account on that final day. There is an urgency in his words that will wake us from slumber and impel us to 'lay aside every weight and the sin which doth so easily beset us and run with patience the race that is set before us. (Paul Washer; emphases mine)
Not everyone gets a chance to make preparations for that final journey before they get called home to be with the Lord. Andrew Bonar was an exception. Here's what he wrote towards the end of his long life:
It was this week fifty-two years ago that I was set apart for the ministry in Collace, and now I have arrived at a new stage of my journey, the last stage of it. O what a comfort to me that, if I be soon called away, my successor will be a man of God, most earnest to do faithfully the whole work of the ministry, and holding fast the old truth, the everlasting gospel. Many prayers have been answered, and many more prayers are going up, here and elsewhere, for me and my beloved people. Lord hear! Yesterday and today I have had some glimpses within the veil, as if to prepare me more for what may now soon come. It is very solemn to find myself near the threshold of Eternity, my ministry nearly done, and my long life coming to a close. Never was Christ more precious to me than He is now. (Andrew Bonar)
Getting back to Washer—I must tell you that listening to him makes me feel rotten about myself. In fact he kind of scares me. I'm not the only one either. Phil Johnson has also admitted as much. Paul Washer is, if nothing else, very intense!
He had a massive heart in March 2017. His heart stopped and was resuscitated three times. Even at the time of writing—two years later—he looks very thin and tired. You can read an account of his trial in a Banner of Truth article appropriately called Life as a Vapour.
Yet you do not know what your life will be like tomorrow. You are just a vapor that appears for a little while and then vanishes away. (James 4:14)
During his recuperation Washer reflected on his circumstance:
If I had died (or 'stayed dead') what would have been my regrets? What would I have changed? What should I change now that God has extended my life?
Washer identified three things about his life:
1) Love—he regretted not being more Christ-like towards his family, other believers, unbelievers, and even his enemies. He regretted that he spent too little time with his young daughter.
2) Intercessory prayer—Washer notes that he's never heard of an old preacher on his deathbed regretting that he prayed too much. I really like this:
But it is in the prayer closet and in the night watches that darkness is beaten back, that Christ gains ground in the heart, that souls are redeemed, and that battles are won.
3) Focus. This third point contains elements personal to his HeartCry Ministry.
I began to think about what my regrets would be if God gave me another chance following a near-death experience…at the End of My Time! I suspect most people would (or should) identify with the first two points. I do. The third point would vary depending upon individual circumstances.
To be honest, when I look at my life, Washer's experience and observations make me uncomfortable. There are areas I know I should fix, yet I procrastinate and seem incapable of change (Rom 7:15-25). I totally identify with Charles Spurgeon's prayer:
Lord, end my winter, and let my spring begin. I cannot with all my longings raise my soul out of her death and dullness, but all things are possible with You. I need heavenly influences, the clear shinings of Your Love, the beams of Your grace, the light of Your countenance—these are as summer suns to me. I suffer greatly from sin and temptation; these are my terrible wintry signs. Lord, work wonders in me, and for me. Amen.
May the Lord help us. To Him be the all the glory!
Maranatha
---
Alf Cengia has a keen interest in politics (especially the Middle East), is a collector of books and dabbles in weight training. He is stepfather to Michelle, Sammy's chief walker and his wife's favorite coffee maker. He blogs at Zeteo316 and Thoughts on Eschatology.
584 reads
1571 reads