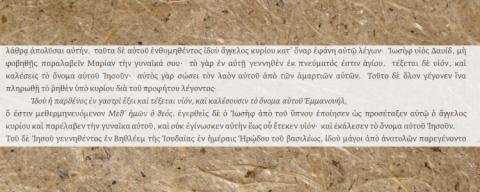 by Randy Leedy
For Starters
Let's make sure at the outset that I'm clear about what I mean by "sentence diagramming." Of the variety of forms of mapping out sentences visually, by "sentence diagramming," I mean a method that at least roughly approximates the one developed by Alonzo Reed and Brainerd Kellogg and published in the 1870s, hence known as the Reed-Kellogg method. Here is an example, from Matthew 1:21. The running text reads, τέξεται δὲ υἱόν, καὶ καλέσεις τὸ ὄνομα αὐτοῦ Ἰησοῦν· αὐτὸς γὰρ σώσει τὸν λαὸν αὐτοῦ ἀπὸ τῶν ἁμαρτιῶν αὐτῶν (And she will bear a son, and you shall call his name Jesus, for he will save his people from their sins).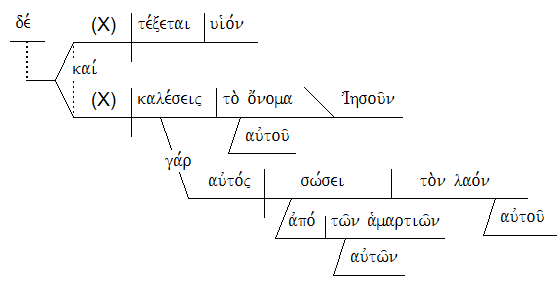 Really?
Some students and teachers of NT Greek immediately recognize value in Reed-Kellogg diagramming; others do not. "Really? Go back to 8th-grade English class for a Greek exegesis tool?" Who is right? I am quite sure that the critics and the supporters are both correct but are talking past one another by not being clear about the goal in reading, or the aspect of reading, that diagramming supports. Obviously, a sentence diagram does not tell you everything about the meaning of a sentence, nor does drawing a diagram force you to think about everything relevant to the sentence's meaning. It indicates nothing about word meanings. It provides no background context to clarify the exact referents intended for the various words and larger units of text. Whether it contributes anything to the development of reading fluency seems doubtful (but see the Conclusion section below). Certainly it makes no immediate contribution toward fluency, as it only slows the processing of the text—and greatly so. It may hint at discourse features of a text, but it certainly doesn't display them in any helpful detail, and it can even be downright misleading for discourse analysis. For example, what the diagram shows as the grammatical subject is often decidedly not the real discourse topic of the sentence. So is sentence diagramming really any good?
Yes, Really!
Sentence diagramming comes into its own as a tool that maximizes the exegete's harvest of information about the aspects of a text's meaning that are mediated through grammatical structure. Though establishing grammatical structure is only a narrow slice of the total exegetical task, it is of such importance that any analytical device facilitating it deserves attention and frequent use. To locate that claim within the philosophical and methodological context of the exegete's goal and presuppositions requires more space than is available here. A longer version of this discussion including such material, as well as addressing objections to sentence diagramming, is available at my website: www.NTGreekGuy.com/Resources.
Sentence Diagramming for Exegesis
On the simple and seemingly safe assumptions that establishing grammatical structure is an important exegetical task and that sentence diagramming is a valid method of portraying that structure, some basic benefits of sentence diagramming become obvious and require little elaboration. The objections listed above evaporate on the recognition that the fact that sentence diagramming contributes little if anything to some exegetical tasks does nothing to negate its value for determining and displaying grammatical structure.
Slowing Down. Among the most important benefits of diagramming is that it forces the exegete to slow down and consider all the grammatical connections within a sentence. And though it does not force him to think deeply (one can hurry even through a laborious task!), it does encourage him to do so. A practitioner who values thoroughness does not simply diagram the first construction that comes to mind (e.g., connecting a modifier with the word immediately preceding it). He examines the context carefully to see whether other possibilities present themselves, and if so, he evaluates all the options for best semantic coherence within the various levels of context.
Thinking about Syntax. The diagramming process also encourages the exegete, as a step toward validating each grammatical connection his diagram shows, to consider the exact syntactical usage for each possible construction he considers: if he's considering the possibility that a participle might be adverbial, does it express the cause of its governing verb? The means? The result? A simple accompanying action? One of the adverbial uses of the participle must be viable in order for this construction to be correct. Even an obvious construction, such as an adnominal genitive modifying its head word, presents an invitation to think about its usage. Is the genitive subjective? Objective? Possession? Source? As another example, dealing with a long coordinate series invites consideration of possible subgroupings within the overall series. Additional examples could of course be multiplied.
Visualization. One of the most obvious benefits of sentence diagramming is its visual nature, which can be a highly effective aid for grasping overall structure that is much more difficult to comprehend in the abstract.
In addition to these rather obvious benefits of sentence diagramming are some benefits that might not be so immediately apparent.
Efficient Communication. Diagrams can efficiently communicate one's understanding of a passage's grammar to others, whether in a classroom setting or by some form of publication. Again, the visual element contributes strongly. We all recognize the helpfulness of commentaries, both when we find ourselves at a loss for clear meaning and when we are confident in our understanding but wish to check our work against the findings of others or to explore for additional insights. Diagrams can function similarly with regard to details of grammatical structure, and with great space efficiency.
Mutual Profit. An outgrowth of the previous point is that diagrams can serve as a means by which fellow students of scripture compare their work for mutual profit. Imagine, for example, two or more pastor friends who agree to preach through a particular New Testament epistle to their respective congregations over the same period of time. I can well envision the benefit that each pastor's work would be to the other(s) as they compare their diagrams and discuss their differences.
Word Study. One important aspect of exegesis to which one might suppose that diagramming contributes nothing (as in fact the opening of this article suggests) is word study. What profit can a sentence diagram bring to the pursuit of precise word meaning? The fact is, though, that a word's various senses sometimes entail differing grammatical constructions. Since a correct understanding of grammatical constructions sometimes constrains our understanding of word meaning, diagramming contributes value even on the lexical side of exegesis.
Pedagogy. Diagramming can also play at least two powerful pedagogical roles. It can aid the teacher in explaining grammatical concepts, as it provides a visual method of showing grammatical structure. It can also help teachers assess their students' understanding of grammar. For the teacher who wants students not only to be able to translate accurately but also to clearly understand the grammatical mechanics of the language, diagramming assignments can reveal conceptual gaps that must be filled in, at an individual or a class-wide level.
Homiletics. Diagramming can also contribute helpfully to expository sermon development, especially in didactic passages (as opposed to narrative). Many expositors have found great help in charting such passages by methods resembling in varying degrees the one recommended in Walter Kaiser's Toward an Exegetical Theology and many other works since, designated by such terms as "propositional display" and "thought-flow charting." The basic unit of text manipulated in such charts is the clause: the briefest grammatical unit that communicates a complete thought consisting of subject and predicate. The first step in such a charting method is to divide the passage into its constituent clauses. Sometimes these divisions are straightforward and obvious; sometimes they are not. If one draws sentence diagrams before beginning the propositional display, those diagrams can become an invaluable aid for determining how to segment the text for the display.
Consulting Sentence Diagrams Drawn by Others
Some who embrace sentence diagramming for its exegetical benefits discount the value of examining diagrams drawn by others. "The value is in the process, not the product, so why bother with someone else's product that only short-circuits my own process?" Several of the values listed above entail the viewing of diagrams drawn by others, so I have partially responded to this viewpoint already. Further development, though, is appropriate.
Such thinking seems commendable on first encounter. It is the thinking of the diligent exegete who wants to earn his understanding of the text by his own labor, for his maximum profit, rather than avail himself another's expertise in a way that might inhibit the development of his own. This reasoning, though, to be consistent, would have to reject pretty much all professional instruction in any field. Would this person want as his physician one who had depended entirely on his own resources for the development of his medical expertise? Probably not for long! This person almost certainly acquired his own ability to diagram from someone else, whether in a classroom or by reading, so he's already dependent on another to that extent. Why not go ahead and compare one's work with that of another—especially one whose expertise and competence is widely recognized? The wise concern about inhibiting one's own development is adequately addressed by insisting on doing one's own work before consulting another; to go the next step and do one's own work without consulting another's, when it is readily available, moves away from wisdom toward folly.
Conclusion
An observation by C.H. Spurgeon is germane. A passage in Lectures to my Students commends the careful reading of Greek and Latin (translating once rapidly and then going back carefully to correct errors), not as a matter of exegetical accuracy but as a matter of learning how language works for the sake of improving one's use of his own native language in preaching, particularly when little time is available for preparation.
Learn, gentlemen, to put together, and unscrew all the machinery of language; mark every cog, and wheel, and bolt, and rod, and you will feel the more free to drive the engine, even at express speed should emergencies demand it. (Lecture X, "The Faculty of Impromptu Speech")
The value Spurgeon saw in the mastery of grammar for the sake of preaching applies equally to the task of exegesis. Spurgeon's homiletical method was not thoroughly expository; his mark on church history is not as an exegete. But the exegete profits equally with the preacher from the grammatical labor that Spurgeon commends. As a tool to enhance the success of that grammatical labor, good old sentence diagramming is hard to improve upon.
4367 reads