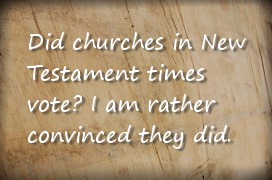 Read Part 1.
The famous Twelve Articles which preceded the Peasants War of Luther's day are very modest by today's standards. In their own day they were conservative and presented no challenge to the feudal system. They began with the demand that "every municipality shall have the right to elect and remove a preacher if he behaves improperly. The preacher shall preach the gospel simply, straight and clearly without any human amendment, for, it is written, that we can only come to God by true belief." Luther had written words quite similar, with the difference that he named the congregation as the deciding body. In those days, of course, there usually wasn't much difference between congregation and municipality. Now if this type of congregational control had been standard practice in 1520, neither the Twelve Articles nor Luther's tract would have ever been written. Indeed, most political and religious leaders in those days did not take well to it. It would take over three centuries before independent congregations which chose their ministers were generally tolerated in European nations.
But the whole idea of congregations choosing their ministers would have seemed anything but radical in Jesus' day. As I have related in previous articles, the concept of towns, cities, organizations, or religious congregations voting for their leaders was a widespread practice. The common (but not only) word for voting in the Greek language was cheirotoneo. Its second occurrence in the New Testament is in 2 Corinthians 8:19:
And not that only, but who was also chosen of the churches to travel with us with this grace, which is administered by us to the glory of the same Lord, and declaration of your ready mind. (KJV)
In this verse cheirotoneo is translated "chosen" by the KJV, NIV and NKJV and "appointed" by the NASB, ESV, RSV, and NEB. The BDAG lexicon gives the translation in this passage "choose" (by election). The Liddell-Scott-Jones Lexicon (LSJ) gives the translation "appoint" (like the high priest of Judaea).
LSJ says that there are three basic meanings for cheirotoneo.
To stretch forth the hand (and thus vote)
To select (without explaining how)
To span with the hand
Obviously, the third meaning has no bearing on the two NT passages. So for the usage in 2 Corinthians 8:19 the question is whether the representative was chosen by a vote in each church or selected without a vote. Commentators who say cheirotoneo here describes an election include Alford, Barrett, Bernard (EGT), Calvin, Fausset, Lenski and H.A.W. Meyer. Commentators who say the representative was appointed include Harris (EBC), Hughes (NIC), and Lohse (TDNT). Alfred Plummer does not decide in his comments which translation is right, but he points out that cheirotoneo had a shift in meaning from "elect" to "appoint" over the process of time. This shift was well explained by Edwin Hatch in his article "Ordination" in the Dictionary of Christian Antiquities in 1875.
To a large extent, writers focus on one or the other meaning of the word. On the one hand, the primary meaning of cheirotoneo is "to elect." On the other hand, the word changed in meaning to "appoint" even before the NT was written. Both Josephus and Philo (contemporaries of the NT authors) frequently use the word to mean "appoint." Thus John MacArthur asserts that the translation of "elect" here in 2 Corinthians 8:19 is "exaggerated literalism."
But in all of this discussion, wrong assumptions are being made. Commentators are not performing a thorough study of the word in its various contexts (do they really have the time?). But, in fact, thorough study of that kind is precisely what is necessary since cheirotoneo appears only twice in the entire New Testament.
I have not studied the word in all of its contexts. That would require using a Greek search engine to look at every instance of cheirotoneo, then read the passage in the literature in which it occurs. The whole study would be worthy of a PhD project (perhaps I can inspire someone to do just that). But I have made a preliminary study and have found the following:
Though the word cheirotoneo did change its meaning, it never ceased to be used with its original meaning, "elect," as well. During the time of Christ and long after, cheirotoneo was used by Greek authors to mean "vote" (e.g. by Plutarch, Lucian, Strabo, and Diodorus of Sicily). Likewise, although Philo and Josephus used the word to mean "select," they also used it to mean "elect." Among the church fathers, it frequently had the meaning of elect (e.g. Didache 15.1; Ignatius Letter to the Smyrnaeans 11.2, Letter to the Philadelphians 10.1, etc). In fact, even in AD 400, church leaders used the word to mean "elect" (e.g., Philostordius in h.e. 7.6).
Another Greek word, proteineo, demonstrates the same history. It began with the meaning "extend the hand" and later came to mean "propose" but never lost the more literal meaning. Josephus also uses proteineo with both meanings.
It appears that every time cheirotoneo is used unequivocally to mean "appoint," it is done by one person. Thus, for example David was chosen (cheirotonetheie) by God to be King (Josephus, Antiquities, 7.53). But when a group was selecting, it had the meaning "elect" (Josephus, Antiquities 19.287—when Tiberius was elected to counsel for the second time).
Now, let's read the sentence in 2 Corinthians 8:19 again: "He was chosen (cheirotoneo) by the churches to accompany us as we carry the offering" (NIV). A group does the selection. Thus the churches each elected the man (whom I would suggest was Aristarchus—a well-tested team worker of Paul from Macedonia). So each church voted "yes" or "no" on one man, it seems. A careful reading of 1 Corinthians 16:1-4 makes this kind of action even more apparent. It was only natural for Paul to think that the churches had the say in who would handle the money they gave.
Did churches in New Testament times vote? I am rather convinced they did, though the Bible lays no stress on any word to express it. In the case of 2 Corinthians 8:19, it seems rather clear that the churches in Macedonia were instructed by Paul to vote. It was not a vote between multiple candidates, but rather a vote of confidence on one person who would carry the Christians' money. It was a vote, nonetheless. This action really shouldn't amaze us. Believers in those times may not have had electricity, cell phones, and the Internet, but they did a lot of the same things we do today.
[node:bio/jeff-brown body]
15540 reads