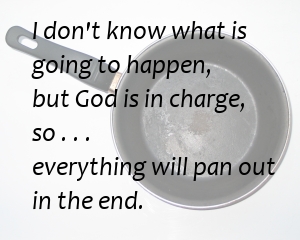 Not long ago, a friend of mine was challenging me on eschatology. He believes that it is very important to embrace the pretribulational, premillennial position. I asked why this was so important. His answer was that we need to know which season we are in because the danger of false teachers will appear in the last days. I asked him whether believers in the second century worried about false teaching or whether only believers in the last days will need to be concerned. He said that today is different; we need to be more on the alert, he said, because false teaching will be more cunning. Later in our conversation, he read me a quote from The Shack.
True story.
In the end, I told him that I was reluctant to agree that what he was trying to argue was of much importance, even if he was right. At that point, he accused me of being a "Pan-Millennialist." I told him that I was surprised that he had used a term I was completely unfamiliar with. When I asked him to define it, he squinted, pursed his lips, inclined his head, and said, "Look it up," as though a description of this horribly bad doctrine would never pass his lips.
Here I point out three passages I believe should influence our eschatology and explain why I am indeed a "Pan-Millennialist."
Passage #1: 1 Corinthians 4:1-5 (ESV)
This is how one should regard us, as servants of Christ and stewards of the mysteries of God. Moreover, it is required of stewards that they be found trustworthy. But with me it is a very small thing that I should be judged by you or by any human court. In fact, I do not even judge myself. For I am not aware of anything against myself, but I am not thereby acquitted. It is the Lord who judges me. Therefore do not pronounce judgment before the time, before the Lord comes, who will bring to light the things now hidden in darkness and will disclose the purposes of the heart. Then each one will receive his commendation from God.
This passage was Paul's final word on the debate between those who followed him and those who followed Apollos. The Corinthians were going to make a judgment about Paul's teachings, and Paul desired that they would make a good judgment. But the human judgment they were going to make would not be a big deal compared to the judgment Jesus will make when He comes.
We need this attitude. We need to lose some of our fear of man in regard to our doctrine. Does everyone agree with you? Don't let that comfort you too much. Does everyone disagree with you? Don't let that bother you too much. Tremble before God's Word. Meditate on Him and His judgment. Study hard and live in fear of dishonoring Him with poor doctrine.
At the judgment, we will give an account to Him for our teachings.
Passage #2: Romans 14:5-9
One person esteems one day as better than another, while another esteems all days alike. Each one should be fully convinced in his own mind. The one who observes the day, observes it in honor of the Lord. The one who eats, eats in honor of the Lord, since he gives thanks to God, while the one who abstains, abstains in honor of the Lord and gives thanks to God. For none of us lives to himself, and none of us dies to himself. For if we live, we live to the Lord, and if we die, we die to the Lord. So then, whether we live or whether we die, we are the Lord's. For to this end Christ died and lived again, that he might be Lord both of the dead and of the living.
Here Paul writes about personal convictions. We understand that we should obey these as one way to honor the Lord. And we must understand that Jesus died and rose again so He could be lording over both the dead and the living. Are you welcoming His act of lording over your convictions? Are you training your conscience according to the principles of God's Word? Are you obeying your conscience?
At the judgment, we will give an account to Him for our obedience in issues of the conscience.
Passage #3: Philippians 2:12-17
Therefore, my beloved, as you have always obeyed, so now, not only as in my presence but much more in my absence, work out your own salvation with fear and trembling, for it is God who works in you, both to will and to work for his good pleasure. Do all things without grumbling or questioning, that you may be blameless and innocent, children of God without blemish in the midst of a crooked and twisted generation, among whom you shine as lights in the world, holding fast to the word of life, so that in the day of Christ I may be proud that I did not run in vain or labor in vain. Even if I am to be poured out as a drink offering upon the sacrificial offering of your faith, I am glad and rejoice with you all.
Paul's letter to the Philippians reminds me of a visit to Grandma or perhaps an old teacher. "I am so proud of you!" rings through as Paul rejoices over these believers. And in verses 16-17, we see a small hint why. Paul poured out his life [by?] taking the good news to people like the Philippians. Now, near the end of his ministry, he looks forward to his post-life interview with Jesus. He wants the Philippians to hold fast to the Word and to persevere in their faith so he may be proud that his labor was not in vain.
You are pouring your life into… what? Do you have an active ministry? When you die and stand before God to be judged, who will be following Jesus because God poured your life into them? Will you be proud?1 Or will you have lived your life in vain?
At the judgment, we will give an account for our ministry in the lives of others.
So, what is a "Pan-Millennialist"? I had to Google the term. It turns out that it's a joke: I'm a Pan-Millennialist. What does that mean? I don't know what is going to happen, but God is in charge, so … everything will pan out in the end.
This is from my church's doctrinal statement:
We believe God, in His own time and in His own way, will bring all earthly things (the Church, Israel, the Tribulation, and the 1000-year reign of Jesus Christ) to their appropriate completion and establish the new heaven and new earth. Jesus Christ will return to the earth suddenly, personally, and visibly in glory according to His promise. The dead will be raised, and Jesus Christ will judge mankind in righteousness. The unrighteous will be consigned to the everlasting punishment prepared for the devil and his angels. The righteous, in their resurrected and glorified bodies, will receive their reward and dwell forever with the Lord.
We spend a lot of time wondering and debating (and even drawing lines of fellowship) about what will happen in the last days. What if the eschatologist spends loads of time precisely refining his view and actually gets it right, correctly divining the identity of the beast, grasshoppers, bowls, and seals? I just don't see how that will be any source of satisfaction on the day of the Lord.
We need to be spending more time considering what we should be doing now and what meeting Jesus face-to-face will be like. How will He judge your teachings? How will He judge your conscience? How will He judge your ministry?
1 I don't mean proud in a vain sense but in a satisfaction-of-service sense.
---
Dan Miller is an ophthalmologist living in Cedar Falls, Iowa. He received a B.S. in Premed from Bob Jones University in 1991 and an M.D. from The University of South Carolina School of Medicine in 1995. He serves as youth leader and board member at Cedar Heights Baptist Church, also in Cedar Falls. He has been happily married to Jenny since 1992. He and Jenny recently adopted a baby boy, Gabriel. Dan's opinions are not necessarily those of his church.

14737 reads