Away with the Training Wheels
Image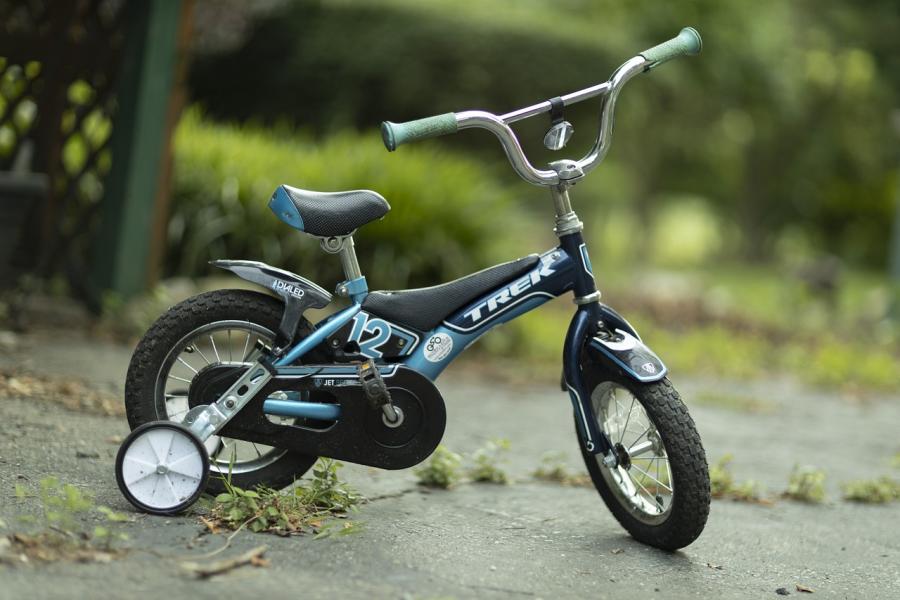 Training wheels are good … for a little while. I remember learning to ride a bike and being very grateful those training wheels would stop me from falling! I also remember the day my father removed the training wheels and the time came for me to ride a bike without them. They were temporary. They served their purpose, but now it was time to be done with them. So, I fell down a lot—but I learned to ride the bike.
With his "heir v. master" analogy (Gal 3:23-25), Paul says something similar. The Mosaic Law was a schoolmaster, a tutor, a guardian which led us by the hand and taught us how to live faithful lives until Christ came. Well, He's now come and gone and instituted a new shape to a believing relationship—the New Covenant. Away with the training wheels! He returns to his own analogy here:
What I am saying is that as long as an heir is underage, he is no different from a slave, although he owns the whole estate. The heir is subject to guardians and trustees until the time set by his father (Galatians 4:1-2).
Jesus has now come and gone, and so the training wheels can be put away. The time set by our heavenly Father has arrived—that's what Jesus said ("the time has come!" Mk 1:15)! Any believer is a child of Abraham, an heir according to the promise, and it's all by trust in Jesus—not by a legalist "checklist" view of the Mosaic Law.
So also, when we were underage, we were in slavery under the elemental spiritual forces of the world (Galatians 4:3).
The analogy is easy—an underage heir might be an heir, but he doesn't have any of the rights until he actually inherits the estate. But, when he does inherit, the guardians go away. So far, so good.
Paul says it's similar with us before Christ saved us. But, what he says here is hard to understand. It's difficult enough that I'll spill a few ounces of ink spelling it out. What does the phrase behind the NIVs translation "elemental spiritual forces of the world" mean? The word means "the basic components of something." 1 This could refer to anything—the physical world, physics, Star Wars, a decent espresso. It could also refer to the transcendent powers that control this world. So, for example:
Paul warns the church at Colosse to not be fooled by hollow and deceptive philosophy, "which depends on human tradition and the elemental spiritual forces," (Col 2:8). This seems to mean the components which make up the false teaching from which they ought to run away. Or, it could refer to the demonic forces which rule this present evil age.
The person who wrote to the letter to the Hebrews said that by now they ought to be able to teach others about the faith, but instead "you need someone to teach you the elementary truths of God's word all over again," (Heb 5:12). Here, the word means the ABCs of the Gospel—the rudimentary first principles they should have mastered long ago.
Peter said that one day, when the day of the Lord arrives, "the heavens will disappear with a roar; the elements will be destroyed by fire …" (2 Pet 3:10). This means the components of the natural world will melt away to make way for the new creation.
But, what does Paul mean here? Because Paul hasn't spoken about evil spiritual forces at all in this section, it probably means the "basic components" of some kind of teaching or doctrine. He's been talking about the Mosaic Law2—warning against a false understanding of it. His audience is the Christians in the various churches in Galatia—some are Jewish and others are Gentile. He seems to be talking to both ethnic groups as one body (see Gal 4:8). So, it's probably best to see the NIVs "elemental spiritual forces of the world" as referring to the false teaching, axioms, and principles we believed in before we come to Christ.
As we see it, the passage has reference to definite principles or axioms, according to which men lived before Christ, without finding redemption in them … And since the apostle speaks of being held in bondage under these rudiments, we shall probably have to think of the prescriptions and ordinances to which religious man outside of Christ surrendered himself, and by means of which he tried to achieve redemption. 3
For the Jewish people, that false teaching was that wrong view of the Mosaic Law—the idea that God gave it as a vehicle for salvation. For Gentiles, it was whatever "spirit of the age" we followed. There are many teachings like this floating about today. Be true to yourself! Live your truth! Don't let anybody tell you who you really are, inside! You do you! The times change, but the song remains the same.
So, Paul basically says (referring here to Jewish Christians like himself who have since seen the light), "so also, when we were underage, we were in slavery to this wrongheaded 'follow the Law to earn salvation' idea …"
For, even though the law itself was of divine origin, the use that men made of it was wrong. Those who lived under the law in this unwarranted way lived in the same condition of bondage as that under which the Gentiles, for all their exertion, also pined. 4
But now, Christ has come and set the record straight. He's the light which brings revelation to the Gentiles, and glory to Israel (Lk 2:30-31)—sweeping aside all false teaching and wrong ideas and drawing a line in the sand. He's made these two groups into one, "for through him we both i.e. both groups have access to the Father by one Spirit," (Eph 2:18).
But when the set time had fully come, God sent his Son, born of a woman, born under the law, to redeem those under the law, that we might receive adoption to sonship (Galatians 4:4-5).
The time came. Jesus arrived on Christmas morning. He was born under the authority of the Mosaic Law to rescue us from the law's curse. The word "redeem" here means liberation from captivity in a slave market context. The idea is something like "rescued us from slavery for a really steep price." Earlier, Paul said Christ had "redeemed us from the curse of the law," (Gal 3:13). He means the same thing here. Christ came to set us free—all of us, Jew and Gentile—from the penalty of capital punishment that the Mosaic Law imposed because of our sinfulness. Jesus did this so we'd be adopted as sons and daughters in God's family. Again, adoption has nothing to do with who your parents are. It has to do with faith in Jesus.
Because you are his sons, God sent the Spirit of his Son into our hearts, the Spirit who calls out, "Abba, Father." So you are no longer a slave, but God's child; and since you are his child, God has made you also an heir (Galatians 4:6-7).
If you're indwelt by the Holy Spirit, you're a son or daughter of the King. You're not a "slave" or underage heir waiting for title to the estate ( see the analogy at Gal 4:1-2). Now you're God's child. The adoption metaphor is beautiful—an adopted child isn't born into a family; she's simply brought into it because the parents decide to show love. This is what God has done with we who are His children—we're each adopted from Satan's orphanage. And, because you're His child, you're also an heir—no matter who you are or where you're from.
The Judaizers are peddling such a different message! They say, "do this, do that, follow these traditions, and you'll be saved!" That's why Paul called it "a different gospel," (Gal 1:6). Our MI-6 spy might be confused, but he's dead so I suppose it doesn't matter. It's not by merit or class that you enter God's family. It's simply by faith.
Notes