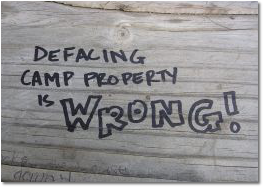 The SharperIron moderating and admin team has learned a thing or two the last couple of years. As far as policy is concerned, we've got a better idea of what sort of tool a forum comment policy is, what it needs to do for us and what it needs to include.
Accordingly, we've revised the site Comment Policy, and the new edition goes into effect today. We strongly encourage everyone who is a registered participant at SI to read through it and tell us what you think. We're not above making a few quick tweaks right away if they turn out to be necessary. Above all, we want to make sure what's intended is sufficiently clear.
So, by all means, ask "Why?" or "Why not?" or "What does that mean?" (or maybe even "Are you out of your mind?!")
In general, the new CP focuses more on principles: post what's legal, ethical, doctrinally healthy, and helpful. The particulars are still "rules," but serve as examples of the principles we're aiming for. The new CP emphasizes that the listed rules are not intended to be exhaustive. Being what we are as human beings, we can come up with an endless variety of ways to conform to a rule while thwarting a principle.
Note that we've broadened the language regarding doctrinal content. This shift doesn't mean we want to be more restrictive in doctrine than we've been in the past. Rather, it's an effort to acknowledge the fact that it's impossible to list every doctrinal view that is, or could be, a problem in the forums—either because of the ideas themselves or because of the way they're being advocated. Sometimes people get a bit obsessed with a novel interpretation. And, while this interpretation might make for an interesting conversation or two (which we'd welcome here), we've got a problem when its advocates start posting new threads twice a day preaching their beloved idea at great length and with lots of bluster.
So the new language there is intented to say, "Don't be afraid to start a thread about your ideas, but don't be surprised if we contact you privately and ask you to tone it down a bit." In a forum, it's rarely helpful to try to silence an unattractive or unsound idea. Better to answer it, and, when necessary, turn the volume down some.
Enough preamble, then. Please have a look at the new CP. It's permanent home will be http://sharperiron.org/comment-policy
[node:comment-policy collapsible]
1844 reads