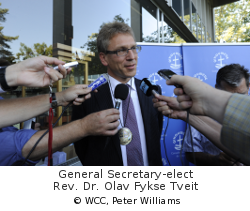 Reprinted from the American Council of Christian Churches Special Report, Fall 2009. It appears here unedited.
Central Committee Meeting of the World Council of Churches
August 26 – September 2, 2009 • Ecumenical Center, Geneva, Switzerland
The process to elect a new General Secretary for the World Council of Churches (WCC) was marked by mystique, intrigue, secrecy, and guarded doors, with cell phones and iPods checked prior to an entrance into the William A. Visser't Hooft Plenary Hall. Only the 140 members of the Central Committee were permitted inside.
Earlier the Search Committee shared with the media that the two candidates being presented were the Rev. Dr. Park Seong-won, a Presbyterian from Korea, and the Rev. Dr. Olav Fykse Tveit of the Church of Norway.
Several hours passed, and we later learned the method used in the restricted room. The first item on the agenda was for the Search Committee to give their report. This was followed by a speech from each of the two candidates. The actual voting was next. While the election was taking place, out in the lobby tables were being decorated, bottles of wine were chilled, and glasses made ready for the celebration toasts to begin. As soon as the doors were opened, the news spread rapidly that 48-year-old Dr. Tviet of Norway was chosen as the 7th General Secretary. One report indicated he had been selected by a majority vote of 80 to 60. At his first press conference, Tviet outlined his vision and goals. He began by pointing to a display on the wall near him and referring to the words that were there. They were from John 17:21, "…that they all may be one." He stressed there had been a spirit of unity that dominated the election process and hoped it would continue.
When questioned regarding other world religions, the newly elected General Secretary responded that he had already reached out by serving in Norway as Moderator of the Church of Norway-Islamic Council. In reference to Christians being persecuted by Islamic governments and groups, he replied, "We must see one another as fellow human beings. All faiths call us to that."
Regarding WCC's strong ties with the Roman Catholic Church, Tviet described their partnership as "one of the most crucial relationships for the WCC." He also said he looked forward to his first meeting with Pope Benedict XVI as soon as that could be arranged.
Pentecostals, Evangelicals, and Charismatics were not forgotten by the new General Secretary. "We want cooperation among these various groups for a common witness as well. Thereby, we can challenge one another."
Those who preceded Dr. Tveit as General Secretary were: Dr. William A. Visser't Hooft (1948-1966); Dr. Eugene Carson Blake (1966-1972); Dr. Philip Potter (1972-1984); Dr. Emillio Castro (1985-1992); Dr. Konrad Raiser (1993-2003) and Dr. Samuel Kobia (2004-2009).
Concerning the election of the new General Secretary, former General Secretary Dr. Castro said, "I am certain there were neither winners nor losers, but the ecumenical movement has been strengthened. I am convinced that the best years of the WCC are ahead of us."
A major address was delivered by Dr. Walter Altman, Moderator of the Central Committee. He spoke on "Ecumenical Ownership." He referred to the celebration of the 500 anniversary of the birth of John Calvin. Then he looked ahead to the World Missionary Conference's 100th Anniversary that took place in Edinburgh back in 1910. He shared that 60 percent of the delegates who will come to Edinburgh next year will be from the Global South in contrast to the first one where the delegates came west to east. This implied that many more delegates will come from South America and Africa rather than North America.
Altman rejoiced in the new Global Christian Forum (GCF) which met in Nairobi in late 2007. "This is evidence of a new approach to ecumenism that includes Orthodox, Roman Catholic, Anglican, Reformation Protestant, Pentecostal and Evangelical Churches as well as Christian networks and Para-church organizations," he said.
Retiring General Secretary Dr. Samuel Kobia chose "The Courage to Hope and the Future of the Ecumenical Movement" as the subject of his major address.
He acknowledged the WCC faces a great problem in Africa with one member church body, the "Church of Jesus Christ on Earth by His Special Envoy Simon Kimbanger." Dr. Kobia recommended the WCC dismiss this church because they deny the Trinity and have now made their church the "New Jerusalem." They also teach that Simon was the One, not the Holy Spirit, sent from heaven by the Father as recorded in John 14:26.
The historic record shows that the senior Simon died in 1951, but his son (another Simon) became the church leader. The WCC received this church into membership in 1970. Young Simon's heretical teaching claims that Simon is the Heavenly Special Envoy of Jesus Christ. Dr. Kobia urged the WCC to expel this group, but no action was immediately taken.
At the press conference following Kobia's address, he was asked if a time was coming when WCC member churches can sit together at the Eucharist (Lord's Supper). The Orthodox refuse to observe the Eucharist with any other than Orthodox churches. He replied he had hoped this would take place while he was serving as General Secretary, but it did not. He had emphasized earlier that the only requirement for membership in the WCC is baptism. "When you are baptized then you are a Christian," he added.
The Public Issues Committee took an entire day to deal with "Just Finance and the Economy of Life," "Eco-justice and Ecological Debt," "Caste-Based Discrimination," and "Sexual Violence against Women."
Two Central Committee members who dealt with "Sexual Violence against Women" held a conference with the media. These were the Rev. Dr. Ofelia Ortego, Presbyterian Reformed Church in Cuba, and Rev. Gary Harriott, United Church in Jamaica.
Dr. Ortego complained that the churches are not coming forward to strongly condemn the sexual brutalization of women which "is a terrible sin and an offence against God." But when a reporter asked if they would comment about the brutal crimes against the unborn, Ortego responded that more "family planning" was needed, and "distribution of preventive means" would surely help diminish abortions. It was obvious that WCC leadership continue to remain silent regarding the wickedness of abortions upon demand, even partial birth abortions!
However, the WCC remains a divided group with the Orthodox outnumbered by other church bodies. Facing the threat of the Orthodox leaving the WCC, which two of their groups did, the WCC began a new way of settling issues. Rather than previously abiding by majority rule, they adopted a method called "Consensus."Each delegate is given three cards. One is orange in color and, if held up, means, "I agree" or " I feel warm toward this matter." However, a lifted blue card indicates, "I disagree" or "I need more information." The third card, a brown one lifted high, tells the moderator, "It is time to move on."
Moderator Altman explained that in this way the Orthodox reach "equal status." He added, "A just order internationally, nationally and locally is not achieved without change." Someone else declared, "There can be no ecumenical movement other than by one built on trust…we can risk trusting each other."
An interesting aspect of this process of collaboration and consensus is that WCC believes unity has arrived if more than 50 percent vote either for or against it. However, at any time a member can interrupt any speaker by calling out "Point of Order." The moderator, either he or she, will request the person to state the Point of Order and then without any discussion shall rule on it. However, if the moderator faces a challenge, then a vote will be taken on the ruling.
Even using a PowerPoint presentation, it took an hour for all of this to be explained to everyone. It would appear it is simply an attempt to "keep peace within the ecumenical family."
The WCC has 349 church bodies as members, but at least 122 of the 349 do not give ANY financial support. As a result, at least 25 Geneva staff members were dismissed from employment. It was announced that the 10 WCC assembly will be held in Busan, South Korea in 2013.
The WCC's Discernment Committee includes two Roman Catholics and leaders of the Reformed Church in America (RCA). The RCA is the NCC/WCC denomination that was almost received into full membership as a denomination by the National Association of Evangelicals (NAE). The NAE, upon the recommendation of the President, Bishop Kevin Mannoia, had this as an item of business. However, the result was Dr. Mannoia was fired and the RCA, as a denominational body, was not accepted. Inconsistency by the NAE is demonstrated because individual RCA churches are permitted membership. It should be noted that the NAE a few years later invited Dr. Robert Schuller, an RCA minister of the Crystal Cathedral, to be one of the keynote speakers at their Annual Convention hosted by the New Life Church in Colorado Springs, CO. Dr. Schuller announced he and his church had rejoined the NAE. At that time Ted Haggard, who shortly thereafter was compelled to resign his position as Senior Pastor of the New Life Church, was serving as President of the NAE.
Observations by this reporter
The printed list of participants at this Geneva meeting could be described as a "religious hodge-podge." They included the United Bible Societies, World Alliance of YMCA's, General Conference of Seventh-Day Adventists, Salvation Army, Habitat for Humanity of Michigan, Roman Catholics, and World Vision.
At every WCC meeting, though in the minority, evangelicals and charismatics attend either as participants or advisors. This surely reveals their lack of discernment, for the WCC is "the lion" and the evangelicals are "the lamb."
A recent survey of Evangelical Leaders by the National Association of Evangelicals (NAE), as announced by Dr. Leith Anderson, NAE President and also the pastor of a General Conference Baptist Church in MN, showed 92 percent said they would be pleased to worship with Roman Catholics. Understand this is NOT sitting next to Roman Catholics in a church pew, but rather participating in Roman Catholic modes of worship. Such would include the Mass where Christ's body is once again offered in sacrifice.It also means Evangelical leaders (92 percent) agree to practice a unity with clergy of a false religion which preaches another Gospel, accepts another than Jesus Christ to be the mediator between God and man, while confession of sins is done to an earthly priest who then grants forgiveness. The defining doctrine of justification by faith alone, that is to be declared righteous by a holy God, is rejected.
The WCC continues to misuse the words of our precious Savior Who prayed, "…that they may be one…"(John 17:21). This is not a visible one-world church the ecumenicals seek to create. Instead those words teach us of the wonderful spiritual unity we enjoy after we are born again and have entered God's family by faith in the Lord Jesus Christ.
The liberal clergy are actually "…grievous wolves…not sparing the flock."(Acts 20:29). While claiming to already represent 560 million "Christians," the WCC continues to court the interest, affection and financial resources of Pentecostals, Evangelicals, and Charismatics.
God's Word clearly teaches His blood-bought family to separate from those who deny the faith, as represented in both the National and World Councils of Churches. However, Biblical commands also demand separation from any and all compromisers who remain a part of the National Association of Evangelicals or the World Evangelical Alliance.
Come out of her, my people, that ye be not partakers of her sins, and that ye receive not of her plagues. Revelation 18:4
---
Dr. Ralph G. Colas
is the Executive Secretary for the
American Council of Christian Churches
, a Fundamentalist multi-denominational organization whose purposes are to provide information, encouragement, and assistance to Bible-believing churches, fellowships and individuals; to preserve our Christian heritage through exposure of, opposition to, and separation from doctrinal impurity and compromise in current religious trends and movements; to protect churches from religious and political restrictions, subtle or obvious, that would hinder their ministries for God; and to promote obedience to the inerrant Word of God.
1888 reads