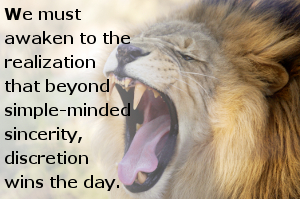 Having been in our new church ministry just over a year, my husband and I have kept very busy getting into the lives of our dear church people. While developing these relationships has found us in a number of settings, one evening it found us in the stands at a public high school basketball game cheering on a young boy from our church. We assumed it would be both fun and relationally productive. In the end, both results were accomplished … and, to our surprise, much more.
I guess you could say I've been "sheltered." Having attended Christian school eleven years and home school for one, I was never faced with the constant negative influences prevalent in an institution whose motto doesn't contain allusions to "the glory of God." Furthermore, my parents, though never unreasonable, did their best to make me "wise in what is good, and innocent in what is evil" (Rom. 16:19, NASB). Given that as a backdrop, maybe my reaction to the half-time dance show isn't too surprising.
I love to watch people. As the game progressed I took notice of the lively high-school students, the band (wow, what a talented bunch!), and the parents. The dance team gathering in the corner of the gym also caught my eye as they warmed up, giving me a taste of what was to come. Having a weakness toward sexual sins of the mind, I must work to suppress any curiosity in these matters and I knew viewing the upcoming dance show would not be beneficial. Thankfully, I had a good excuse to miss it, with my three- and four-year-olds needing a bathroom break. Trudging through the thick crowd while the dance routine began, I took keen notice of the spectators, young and old alike, whose eyes were glued to this entertainment. Frankly, I would have loved to indulge in a glance myself but God's gracious leading prevented me. We continued to exit the bleachers but my mind was racing. Inside I wanted to yell, "Don't you get it?! Need we wonder why there are so many broken homes, unfaithful spouses, or teen pregnancies? You make it too easy!"
Even if I didn't care about the unsaved people around me, who are allured by sexual pleasures yet blinded to the consequences, I do still bear the burden of some precious parishioners who are captains in the battle for their own children's purity and spiritual progress. I hear my husband's discreet relaying of the sexual struggles among our own church's teens. In a sense, listening to the difficulties of both child and parent through the growing up years strikes a bolt of healthy fear through me as my oldest is still under school age. From a young parent's perspective, what is becoming apparent is that raising a spiritually victorious child is not an exact science (as if somehow human involvement alone could accomplish this). Still, while in the process toward this hoped for, prayed for, worked for outcome there are a few things we must not pass off. It is important to foster a genuine confidence in the power that the indwelling Spirit can give to our believing children. Withstanding even strong temptation is not an impossibility. I am reminded of Daniel and his three friends, submerged in a culture far from God-fearing, who were able to emerge un-eaten and un-charred from the jaws and fire of the king's threats (Dan. 3 & 6). Far more than just peer pressure, they withstood even the king's imperatives regarding what food they would eat and which gods they would worship. They survived physically and spiritually undefiled. While I would not presume this to be the norm for either scenario or strength of character, the story still stands. With the power of God, excuses are indefensible.
However, the thrust of this article is not whether we should overestimate or underestimate our child's potential to overcome temptation. It is instead directed toward parental responsibility. My burden is to expose the allowances that have been made in our children's lives that, though we hope against it, provide easy spiritual wreckage. We must awaken to the realization that beyond simple-minded sincerity, discretion wins the day. If in our own lives we ought not to make any provision for the flesh (Rom. 13:14), does it not naturally follow as a broader application for parenting? Should we not thoughtfully create an environment most conducive for spiritual growth, making it "easy" for them to love what God loves and hate what He hates? "But what if instilling spiritual protection for my children calls for 'extreme' measures?" you ask. "What if throwing out traditions or societal expectations would label them as 'sheltered'?" I would far rather take that risk than impose the familiar "virtue" of exposure. I fear it is not just the world that is to blame. More often than not Christian parents are failing by "making it too easy" for our children to trip up spiritually.
While there is a host of areas we parents must thoughtfully examine, my recent sensitivities lie mainly within the arena of sexual lust. Let's start with an easy target—our TV. Maybe it all stems from my grandfather who used to annoy my sister and me by vocalizing his disgust of the "cursed new invention" while we watched "The Andy Griffith Show." Ironically, I am finding a strange sense of that same disgust growing within me. For most of my married life (seven years), we have chosen to house our TV in the closet. The potential for temptation and failure is still present but the ease of access has been limited. If there was anything that heralded all day long the activities and philosophies of spiritual darkness—that which we Christians are to protect ourselves against (Eph. 6:11-12)—we would find it embodied in our own television set. Why then do we treat it like an indoor campfire, thinking nothing of the obvious dangers?
Keeping on the technology track, computers are next in line for consideration. I do not completely understand why we Christians have not yet taken the necessary precautions needed long ago, particularly as it concerns Internet pornography. It seems that only after a string of failures (resulting in the permanent etching of those mental images) do we begin to make practical, preventative changes. Understandably, it is more of a secret sin. But while those seeking sin will often find it regardless of the barriers, proactive effort must be taken to lessen the ease of this common pitfall. Personally, our family is committed to public Internet use, "public" being defined as high-traffic common areas. While it may hamper privacy, that's the point! Let's stop assuming that our teenage boy is somehow untouched by this temptation. Let's make it easier for our men to keep their minds pure!
Lastly, given the incident at the beginning of this article, one may understand my doubts concerning public education. Though I haven't even been searching for them, I feel as though I am picking up convincing reasons to believe that a public school is a hard place to thrive spiritually. I know it is not ruinous for every child, but shouldn't other schooling options be considered for one who is struggling spiritually within that environment? Without droning on about the innumerable areas in which we could apply the "ease" principle, I will stop here.
Just a few weeks ago, I was enjoying the cool spring breeze while tackling my first mini-garden project. The small three-by-four foot area holding ten geraniums and five begonia plants brought me enough joy to take a few sneaks peeks out my window while inside the house. However, arriving back from church the day after planting, my husband discovered that someone with less respect for my work had visited the garden bed. Perhaps it was a neighbor's dog, a small rabbit, or a deer that had nibbled off some flower buds and kicked up a begonia. My unverified suspicions aren't worth too much mental energy. Oh well—another excuse to enjoy the outdoors. For a moment, though, let's go beyond a playful dog or graceful doe to a hypothetical threat of a lion in the streets. Forget about protecting my pretty pink geraniums… up goes a ten-foot fence, out comes the family gun, and on goes the radio waiting anxiously for any announcement of the lion's capture! Yet, if we could for one minute uncover our eyes, currently blinded to the activity of our spiritual enemy, we would see a lion in the streets! His name is Satan. He is active, not passive. He is roaming, not resting. And he is not content to simply dent our spiritual progress—he aims to utterly destroy us (I Pet. 5:8)!
Are we OK with letting our kids walk the streets of spiritual warfare unprotected as we pray for their safety at home? Are we too simple-minded to discern how our allowances are in fact hindering the spiritual progress we hope for them to achieve? Wisdom pleads (Prov. 8:1-5) and is given at no charge (Jas. 1:5). We must humbly ask the Lord to reveal areas of unwise permissiveness and pray for the courage to make the necessary changes. It may not come without limiting our own personal indulgences … but I never said it would be easy!
---
Heather Schopf serves from her home as a wife and mother. She ministers alongside her husband, John, who is the pastor of Lighthouse Baptist Church in Eau Claire, Wisconsin. The Lord has blessed them with three children, Jacob, Reagan and a baby boy due in November of 2009. In 2006, Heather and her family (mom and sister) began writing original sacred music compositions and arrangements. The Lord has allowed this passion to develop into their music ministry, Forever Be Sure, which began early 2008.
1094 reads