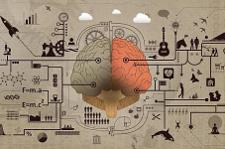 Read Part 1, Part 2, and Part 3.
The greatest advantage of the Nouthetic approach is that it truly attempts to exalt the sufficiency of Scripture. Further, it rejects mainstream, integrated, and Christian psychology. However, there are some significant disadvantages: Nouthetic is imbalanced, in that all counseling is considered to be admonishment; it is very behavioristic and sin focused; it abandons the discipline of psychology altogether; it is rooted in the B+t of contemporary Reformed or Covenant theology. Each of these concerns is significant enough to warrant discussion here.
Problem #1: Admonishment ≠ All Counseling
In a Venn diagram illustrating this assertion, the two circles would be completely overlapping (Diagram A.), but this doesn't square with the Biblical data. There are eleven NT instances of νουθετέω/νουθεσία. Five are descriptive.106 Six of these instances are prescriptive,107 and in several of these νουθετέω/νουθεσία is considered with other verbs, so there is no exegetical warrant for asserting that all counseling is simply nouthetic.
1432 reads