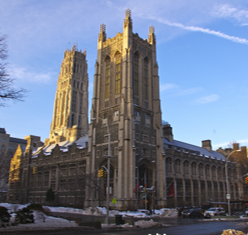 On September 11, 2018, Union Theological Seminary released a clarification statement (of sorts) in response to criticism it received for its initial response to the Statement on Social Justice. This clarification is very useful, because it shows the Bible-believing Christian why Machen was right – liberalism is another religion entirely.
Union Theological Seminary is not a Christian institution. Its an incubator of leftist ideology and rank unbelief. This clarification, below, speaks for itself. It could only have been written in an echo-chamber of "elitism," borne out of a worldview entirely disconnected from Scriptural revelation.1 And, remember, the great church historian Phillip Schaff once taught at Union, when it was a very different place!
1. A word about biblical infallibility: This weekend, we received much damnation from fundamentalists over our denial of scriptural inerrancy. It's understandable, because once you relinquish conviction that the Bible is *literally* God's word, faith becomes a messier affair.
4222 reads