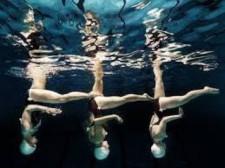 Reposted from The Cripplegate.
The Olympic Games is a dignified affair. The athletes who are selected to compete represent the most physically and mentally dedicated, talented, and trained people on the planet. The various events serve to put on display the prowess, agility, strength, and determination required to perform at such an elite level of skill mastery. Which is why it is amusing to consider some of the odder sports to have snuck onto the roster for a time, only to expose their unsuitability for Olympic attention. 
In 1900, the Paris Olympic Games saw the inclusion of equestrian long jump where a horse named Extra Dry made a splash in the news by winning the world's first and last Olympic long jump for horses with an underwhelming distance of 20 feet. To fully grasp how insignificant that achievement is you need to know that this is nearly 10 feet less than the world record held by a human. 
Another sport to make a short-lived appearance at the Olympic level, in 1906, was pistol dueling. You might think you know why pistol dueling would be short-lived, but I was surprised to learn that the downfall of the sport's popularity was that the duel occurred between a contestant and a dummy with a target embroidered on its chest. Yes, the dueling opponent couldn't shoot back. 
1213 reads