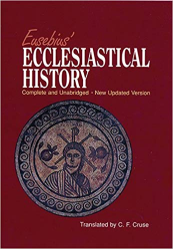 Eusebius wrote his church history sometime in the early 4th century. Towards the beginning of his work, there is an excerpt from some curious correspondence which purports to be between Jesus and the King of Edessa, a city in present-day southeastern Turkey.1 It's unknown whether this correspondence is authentic, but Eusebius claimed to have translated the text from Syriac himself. Even if it isn't original, it's a curious piece of work captured in the earliest history of the Christian church ever written outside the Holy Scriptures:
The divinity of our Lord and Saviour Jesus Christ being noised abroad among all men on account of his wonder-working power, he attracted countless numbers from foreign countries lying far away from Judea, who had the hope of being cured of their diseases and of all kinds of sufferings.
For instance the King Abgarus, who ruled with great glory the nations beyond the Euphrates, being afflicted with a terrible disease which it was beyond the power of human skill to cure, when he heard of the name of Jesus, and of his miracles, which were attested by all with one accord sent a message to him by a courier and begged him to heal his disease.
But he did not at that time comply with his request; yet he deemed him worthy of a personal letter in which he said that he would send one of his disciples to cure his disease, and at the same time promised salvation to himself and all his house.
3771 reads