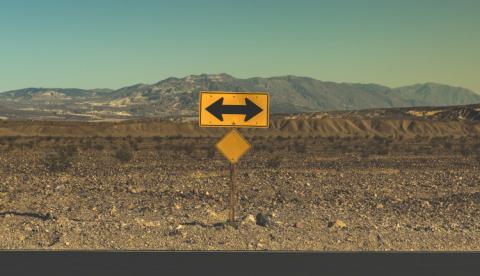 In preaching, teaching and writing, our good intentions are often defeated by an avoidable poor choice of words. Sometimes these inapt wordings gain popularity among Christians and become proverbial. Without thinking, we repeat them for the amens.
One example is the popular habit of speaking of duty and love as though they're two competing and incompatible dynamics in the Christian life.
I can't be the only one who has heard this, over and over, and wondered, over and over, what Bible people are reading. Consider Jesus' state of mind and heart as He approached the cross.
looking to Jesus, the founder and perfecter of our faith, who for the joy that was set before him endured the cross, despising the shame (Heb 12:2)

And going a little farther, he fell on the ground and prayed that, if it were possible, the hour might pass from him. 36 And he said, "Abba, Father, all things are possible for you. Remove this cup from me. Yet not what I will, but what you will." (Mark 14:35–36)
There is clearly love here. And there is clearly duty. Jesus isn't "happy" to be the Lamb of God who takes away the sin of the world (John 1:29). He was aware of the coming beating, mockery, and death (Mark 10:33-34). He wanted to go through with it (Gal 2:20), and he didn't want to go through with it ("not what I will").
So, if we ask, "Was it love or was it duty?" The question appears to be nonsense.
949 reads