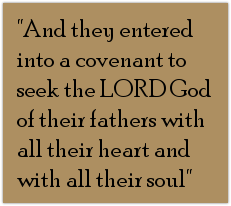 What does real worship look like in the Christian life? We have a wonderful example from King Asa of Judah, the third king after Solomon. Not long after a great and decisive victory over a 1,000,000-man strong Ethiopian army, Asa launches a reform movement in Judah. Read here the words of the prophet Azariah to Asa:
And the Spirit of God came upon Azariah the son of Oded: And he went out to meet Asa, and said unto him, Hear ye me, Asa, and all Judah and Benjamin; The LORD is with you, while ye be with him; and if ye seek him, he will be found of you; but if ye forsake him, he will forsake you. Now for a long season Israel hath been without the true God, and without a teaching priest, and without law. But when they in their trouble did turn unto the LORD God of Israel, and sought him, he was found of them. And in those times there was no peace to him that went out, nor to him that came in, but great vexations were upon all the inhabitants of the countries. And nation was destroyed of nation, and city of city: for God did vex them with all adversity. Be ye strong therefore, and let not your hands be weak: for your work shall be rewarded. (2 Chronicles 15:1-7)
We read some familiar things here:
The covenant promises of blessings for heartfelt obedience and cursings for rebellious apostasy from Deuteronomy (ch. 28-30) are repeated in v.2.
Azariah reminds Asa of the tumultuous days of the judges, when each man did what was right in his own eyes (v.3-6). Those inclined to think Azariah is being melodramatic should review Judges 19 and following.
He closes by exhorting Asa to "be strong," and persevere in faith.
Asa, already a proven reformer (2 Chron. 14:2-5), takes heart and re-doubles his efforts. He rids the land of abominable idols, both in his own borders and in territory recently captured from the Northern Kingdom of Israel (v.8). He repairs the altar at the temple in Jerusalem (v.8). The fact that this literal house of God on earth had been allowed to languish in disrepair says much about the spiritual state of Judah!
Asa also gathers all the Israelites and foreign converts to Judaism in the Kingdom together (v.9-10). Interestingly, this included a large number of Israelites who had defected from the Northern Kingdom; "for they fell to him out of Israel in abundance, when they saw that the LORD his God was with him" (2 Chron. 15:9b). God's light cannot be hidden, and these faithful men and women are a testimony to that light! They forsook family, home and comfort to make a new life in another land; they considered the comforts of the world as nothing compared to the true worship of God!
King Asa then leads the people to offer sacrifice to the Lord and, as it were, re-dedicate themselves to the great covenant made at Mt. Sinai (v.11-12). Observe what, specifically, they pledged to do:
"And they entered into a covenant to seek the LORD God of their fathers with all their heart and with all their soul" (2 Chron. 15:2).
There is an almost electric charge in the air as they consecrate and affirme this marvelous oath! We read that "all Judah rejoiced at the oath." What a wonderful moment, full of expectation! And why are they excited? What had they done that was so important? What hint does the Chronicler give us as to why this oath was accepted by the Lord and pleasing to His ears? Simply this—they had a real change of heart:
And all Judah rejoiced at the oath: for they had sworn with all their heart, and sought him with their whole desire; and he was found of them: and the LORD gave them rest round about. (2 Chron. 15:15).
They had sworn to follow the Lord with "all their heart." This is the essence of real worship before our God. The goal is perfection, but no man will ever reach this high calling in Christ in a mortal body. God does not look upon the outward man, but the inward heart.
David was not a perfect man, but he was a man after God's own heart. Why? Because David had a genuine love for God. He tried his best to walk after His statutes. He fell grievously, it is true, but he repented and got back on the path once more. When a man does sin under the Mosaic Law, he has a way to atone for that sin and reconcile to God once again through the sacrificial system. God does not expect perfection from His children or why would He provide a way of atonement for sin at all? No, He does not expect perfection and outward conformity, but inward love and devotion out of a pure heart.
Moving on, we read that the people of Judah "sought him with their whole desire; and he was found of them." This is the "greatest commandment," written by Moses (Deut. 6:4) and affirmed by Christ Himself (Matt. 22:37). Our love for God must be all-encompassing. We must seek Him with our whole desire, and then He will be found by us.
What is the result of this heartfelt repentance and re-affirmation of the covenant? "And the Lord gave them rest round about." We, too, shall have rest in the Christian life if we make a similar commitment. We must stop pretending to be committed to Christ and really resolve to make Him Lord of our lives.
Another example shows it is the heart of the man God seeks, not a mere outward conformity and perfection. The Chronicler goes on to detail more of Asa's reforms and makes this observation: "But the high places were not taken away out of Israel" (2 Chron. 15:17). Surely here, we may assume, the hammer will fall. Asa will be denounced as a well-meaning but wicked and worthless King, a man who failed in his commission! Not so, for the next words are plain for all to see. "Nevertheless the heart of Asa was perfect all his days" (2 Chron. 15:17). Likewise, the parallel account from 1 Kings 15 says "Asa did that which was right in the eyes of the LORD, as did David his father" (1 Kings 15:11).
It is even more shocking to read of Asa's sin towards the end of his life. Trusting in men rather than in God, he sought a military alliance with Syria to thwart a threat from the King of Israel (2 Chron. 16:1-6). The seer Hanani visits Asa and rebukes him sharply, remarking that "[b]ecause thou hast relied on the king of Syria, and not relied on the LORD thy God, therefore is the host of the king of Syria escaped out of thine hand" (2 Chron. 16:7b). Why had Asa not relied on the Lord for victory, as he had done to such great effect before (2 Chron. 16:8)? Observe this next remark by Hanani:
For the eyes of the LORD run to and fro throughout the whole earth, to shew himself strong in the behalf of them whose heart is perfect toward him. Herein thou hast done foolishly: therefore from henceforth thou shalt have wars" (2 Chron. 16:9).
Do you see this simple statement? God sees all our actions and knows the motivations of our hearts. He will show Himself strong in those children who have a pure heart towards Him. Those who are weak, He chastens out of love (Rev. 3:19). This is the chastening of a Father towards His children (Heb. 12:5-10), not that of a judge towards a criminal, which is how God views those who are dead in trespasses and sins (Eph. 2:1) and of their father the devil (John 8:44).
How does Asa react? He imprisons Hanani and oppresses some of the people who likely protest this injustice (2 Chron. 16:10). His last days were marked by a terrible illness. He did not seek help from the Lord, but availed himself of "physicians" instead (2 Chron. 16:12). And yet, the verdict passed by Scripture is that Asa was a man like David. He was not a perfect man. He was hobbled by pride, doubt and all the infirmities we know so well in ourselves. His heart, however, was pure. He really did love the Lord. His sins are not excused or minimized, but in the final analysis, he was, like David, a man after God's own heart. Even in the Mosaic dispensation, we see the glorious grace of God towards wretched sinners! How much more does grace abound now, looking back on the perfect, final, finished work of Christ!?
God desires the genuine heart of His children. Once this is in place, the practical outworking of a pure heart and love for Him will be conformity to His statutes. Fruit will inevitably follow. A "checklist" approach to growth in Christ is not pleasing to God. A true heart and love for Him is. That is real worship.
---
Tyler Robbins is the Pastor of Faith Baptist Church in Divernon, Illinois. He has been married to his wife Starla for 10 years and they have three children. He recently separated from the U.S. Navy after 10 years as a Military Police Investigator and Anti-Terrorism Planner. He is a student at Maranatha Baptist Seminary, studying for his MDiv.
856 reads
901 reads