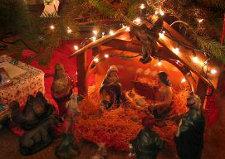 Like almost all children, I loved Christmas. Being brought up in a religious (but non-evangelical home), I understood the meaning of the holiday from as far back as I could remember. We always went to church every Sunday and would not think of missing church on Christmas.
Part of our Christmas décor included setting up a small Christmas crèche, complete with a light that fit into a "star" slot above the stable. Although I was led to believe in Santa Claus, the religious nature of the holiday was always front and center. My mom sent only Christmas cards with manger scenes, and we never bought Christmas albums that did not have at least some faith-based carols.
When I was very young, my sister and I would go out with my parents to purchase a live Christmas tree about a week before Christmas. We would decorate it with ornaments, tinsel, and those old-fashioned colored bulbs. One year, a neighbor moved and left us a silver tree. We tried it one year, but it seemed so cold. We returned to purchasing live trees, but eventually decided to buy an artificial green tree.
Our family tradition included an amazing dinner on Christmas Eve. Some years, we would eat lobster tail with melted butter and lemon juice. At other times, we would eat duck or lamb stew or spaghetti with homemade meat sauce. These meals were among our family favorites. Although we had a middle-classed income (not upper middle, but middle), we nonetheless ate very well.
When I was seven years old and no longer believed in Santa Claus (my sister was older than I, so I was the baby), we began opening our gifts on Christmas Eve. We either went to church that night or the next day. What a time we had on Christmas Day playing with our new toys or gadgets. I was especially fond of dart guns and moving targets. One Christmas, my sister shot a rubber tipped arrow at my Uncle Emil. He ducked and it cracked the window behind him.
When I trusted in Jesus (instead of Jesus plus my good works) to save me at age 17, my life was transformed. I began wearing my eyes out, reading the Bible. I started to attend Cicero Bible Church where a steady diet of expository preaching was the norm Sunday morning and Sunday night.
As Christmas approached, the Christian Christmas carols I had sung all my life came to life. I now understood the meaning of "Hark, the Herald Angels Sing," perhaps the most theological of all Christmas carols. When I sang, "born to raise the sons of earth, born to give them second birth," I understood experientially that "second birth."
After Marylu and I were married, we had to determine how we would celebrate Christmas. In many ways, her upbringing resembled mine, so we were onboard with the idea of "keeping Christ in Christmas." We had a little tree, a manger scene, and taped Christmas cards in our little apartment. Like both our mothers, we sent Christmas cards that captured the true meaning of Christmas.
After we moved to Kokomo and God blessed us with children, we had lots of decisions to make. In Kokomo at the time (sadly, even at our church), Christmas was clearly about Santa Claus. We chose to rear our children without Santa, although we did not look down upon others who chose otherwise.
I led the church to stay out of the issue; if people preferred to raise their kids with Santa, they could get him at school, the mall, or on TV. But at church, we needed to clearly emphasize the real meaning of the holiday. Some people resented that we did not endorse Santa, and a few folks actually left the church because we wouldn't bash him. People will fight about anything, it seems.
Meanwhile, back at the parsonage, we would set up our tree and manger scene; we have hours of videotape with the kids decorating the tree or opening gifts. On Christmas Eve, we began the tradition of serving a duck dinner with bread dumplings, gravy, and sweet and sour cabbage. We drink a toast with bubbling grape juice and read the Christmas narrative from God's Word. We typically ate an early dinner (maybe 3:30 PM), then we would open gifts so we would not be rushed later that evening. This took the hurry out of the church's Christmas Eve service; we could contemplate Jesus' birth without distraction.
The right balance between the secular and sacred is certainly a matter of opinion. The Scriptures offer us no direct instruction about celebrating Christmas, because it is a man-made holiday that evolved centuries after Jesus was born. But, as godly parents, we want to take advantage of opportunities to teach our children God's word and ways; Christmas is one of those opportunities. It is hard to over-emphasize putting God first!
1699 reads