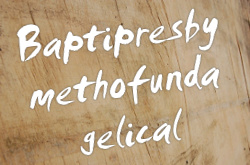 Originally written for The Body Builder, a publication of Highland Park Church.
Many times folks have mentioned that a relative has begun attending church. When I ask the name of the church, people sometimes have no idea. When I ask what kind of church they are attending (Baptist, Methodist, Christian, etc.), they often have no clue either!
The lesson, of course, is that most Christians are confused about various denominational beliefs and differences. Some do not take seriously the differences in belief between churches. In their view, as long as one attends church, that is all that matters. In my mind, attending a non-evangelical church can be worse than attending no church.
Still, I admit, it is confusing. To make matters worse, some churches believe the Bible is historically and theologically reliable (we call such churches conservative) while others doubt some or much of it (we call such churches liberal). Others have a mixture of belief and unbelief.
Then there is another way to divide Christendom: Roman Catholic, Eastern Orthodox, Liberal Protestant and Evangelical Protestant. To make matters more confusing, sometimes evangelical believers elect (wrongly so, in my opinion) to remain within Liberal Protestant, Catholic (which is not as monolithic as many people believe it to be), or Orthodox churches. The Bible, on the other had, tells the believer to "come out" from false religious groups and to fellowship spiritually only with believers (2 Cor. 6:14-18).
If things were not muddled enough, the term "evangelical" does not mean what it once did. People claim to believe the Bible and tenaciously cling to the label "evangelical" even though they deny God's foreknowledge, God's creation of a literal Adam and Eve (1 Tim. 2:13-15), God's condemnation of homosexual practice (Lev. 20:13, 1 Cor. 6:9-10), or the restrictions God's Word puts on women being in church leadership over men (1 Tim. 2:11-15). Others imply that the Scriptures are not all equally inspired (2 Tim. 3:16-17; note the word "all") thus only what Jesus taught matters.
It used to be that the terms "evangelical" and "fundamentalist" were synonymous, at least in North America. To be an evangelical once meant to embrace the fundamentals of the faith. This included the idea that the Scriptures are reliable; that Jesus was born of a virgin, is both God and man, died for our sins and rose again bodily; that salvation is by grace alone through faith alone; God as a Trinity; and the Second Coming. Fundamentalists were also noted for their belief that God is the Creator.
In time, the word "evangelical" became a broader term as people to the left of fundamentalism were accepted under the umbrella of evangelicalism. The term "fundamental" moved further toward the right as a reaction to the watering down of evangelicalism. Eventually, the King- James-Version-only Independent Baptists confiscated the term. Fundamentalists not of this ilk (such as yours truly) began calling themselves "conservative evangelicals" in an attempt to distance themselves from both the compromises of evangelicalism and the cult-like King-James-only Independent Baptists.
To make matters more confusing, a surge in Reformed theology has captured a large segment of those not comfortable with the watered-down label of "evangelical" and seeking to avoid the stigma of fundamentalism. Yet such a move comes at a great cost and carries with it at least two "fallouts." The first fallout is that the leaders of this movement often oppose young-earth creationism. One such leader, Tim Keller, is an outspoken opponent of young earth creationism. Here is one of his milder statements:
Oh, I think there was an Adam and Eve. I think there was a real Fall. I think that happened. I also think that there also was a very long process probably, you know, that the earth probably is very old, and there was some kind of process of natural selection that God guided and used, and maybe intervened in. And that's just the messy part. I'm not a scientist. I'm not going to go beyond that. (firstthings.com)
The other problem is that such leaders (with the exception of John MacArthur, who I do not consider truly Reformed, though he accepts that label) have no place for the exaltation of Israel in the Millennial Kingdom (if they believe in a literal Millennium at all; Al Mohler, for example, does not). I had a conversation recently with a Messianic Jewish leader regarding this trend—one that threatens the idea that God will faithfully keep His promises to Jacob's descendants.
In reality, churches like ours care little about camps, traditions, or heritages. Our desire is to keep reforming, to constantly strive to align our beliefs more closely to Scripture. We are a Bible Church in the heritage of the Bible Conference movement. Although we closely resemble conservative Baptist churches, we do not believe Scriptural perfection has been attained by anyone.
So, who are we? Not everyone who is part of Highland Park Church, of course, agrees with me. So maybe the better question is, who would I like us to be?
First, I want us to embrace the fundamentals of the faith, including non-agenda driven, natural interpretation of Scripture. We are first and foremost disciples who are absorbed with the Bible (see Psalm 119, 2 Tim. 2:2).
Of course people can make the Scriptures out to say what they want them to say, but they do so by compromising their own integrity. We seek the intended meaning of the author, to understand Scripture as the original audience would have understood it. The original readers of Genesis, for example, would have taken it as straight historical narrative. We may have some unanswered questions, and Genesis is presented in summary fashion, but the events stated there did occur. The Flood, for example, encompassed the entire earth.
Second, I'd like us to be conscious of paradigm blindness. We often cannot see what God's Word says because we are conditioned by heritage or culture to see what we expect to see. This means we need to be wary of trends, fads, or emotionally driven movements, particularly if they parallel secular trends in society. If we adapt to such trends, we need to do so consciously and intentionally.
Third, we view both redemption and God's dealings with Israel as the storyline for Scripture. Thus the church is interpreted as connected to both of the above. Discipleship, for example, begins with personal redemption (salvation) and is then understood in the Jewish (rather than European) context. The New Testament flows from the Old Testament.
Fourth, we need to hold one another accountable to a fairly detailed doctrinal statement, one summarizing the clear and repeated teachings of Scripture. Our "firmly evangelical creed" summarizes those teachings. Our church's doctrinal statement (in our constitution) includes these crucial beliefs plus some not-as-crucial ones.
So who do I think we are (or who do I want us to be)? I believe we are what used to be called "fundamentalist" a hundred years ago. Right now, we are without a name. We are sort of conservative evangelical, sort of fundamental (without the legalism and man-made rules associated with modern fundamentalism). Though non-denominational, we are not far removed from groups like the IFCA, The Evangelical Free Church, General Association of Regular Baptist Churches, Grace Brethren Churches, or even the moderately charismatic Calvary Chapel Churches. We long to be faithful disciples of Jesus Christ. He is the Jewish Messiah and the Savior of mankind. We seek to be like the Berean believers in Acts 17:11, "Now these Jews were more noble than those in Thessalonica; they received the word with all eagerness, examining the Scriptures daily to see if these things were so."
[node:bio/ed-vasicek body]
2624 reads