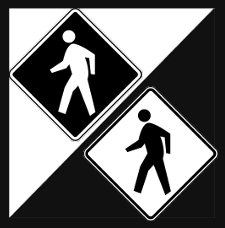 Problems with the One-Nature View
Properly delineated, the two-nature view can accurately and correctly represent the Bible's teaching on regeneration and sanctification, but so can the one-nature view, if it is properly delineated. An advantage for the two-nature view—and thus a minor difficulty for the one-nature view—is that the two-nature view more easily describes the believer's struggle with sin. As we have previously observed, one-nature advocates usually end up using two-nature terminology even though they disavow the term nature. A potential and much more serious problem for the one-nature view can arise if that one nature is not carefully defined. For instance, Warfield says: "For the new nature which God gives us is not an absolutely new somewhat, alien to our personality, inserted into us, but our old nature itself remade."1 Thus Warfield can call the believer's one nature, the new nature. But, of course, Warfield is careful to explain that something old remains in that new nature.
Unfortunately, sometimes, those who argue for the one-nature position have been unable to correctly express it. A well-known example of someone who has misunderstood one-nature terminology is John MacArthur, Jr. By mixing elements of the Chaferian view of the two natures while at the same time denying the two-nature view, MacArthur has sketched out a picture of the believer's struggle with sin which is theologically problematic. As was previously noted, MacArthur denies that the believer has two natures: "No matter how radical our outer transformation at the time of salvation may have been for the better, it is difficult to comprehend that we no longer have the fallen sin nature and that our new nature is actually divine."2 Thus, right away MacArthur has presented us and himself with a dilemma. If the believer has only one nature, and that nature is "divine," then how do we account for the believer's sinning? We get a glimpse of MacArthur's solution when he says: "Although sin is not the product of our new self, we're still bound to some degree by the body we dwell in."3 Apparently, we are to understand that since we no longer have a fallen nature but only one new divine nature, which cannot sin, the believer's sinning must be due to his physical body. This becomes clearer:
As every mature Christian learns, the more he grows in Christ, the more he becomes aware of sin in his life. In many places, Paul uses the terms body and flesh to refer to sinful propensities that are intertwined with physical weaknesses and pleasures…. New birth in Christ brings death to the sinful self, but it does not bring death to the temporal flesh and its corrupted inclinations until the future glorification. Obviously, a Christian's body is potentially good and is intended to do only good things, else Paul would not have commanded believers to present their bodies to God as "a living and holy sacrifice, acceptable to God" (Rom 12:1). It can respond to the new holy disposition, but does not always do so.4
We can only assume that the body's failure to "respond to the new holy disposition" is due to some failure (sin) in the body.
But if we had any doubts that the believer's sinfulness is to be located in the body we only have to read a little further:
Because a believer is a new creature in Christ, his immortal soul is forever beyond sin's reach. The only remaining beachhead where sin can attack a Christian is in his mortal body. One day that body will be glorified and forever be out of sin's reach, but in the meanwhile it is still mortal, that is, subject to corruption and death. It still has lusts—because the brain and the thinking processes are part of the mortal body…. [God] does not warn about sin reigning in our souls or our spirits, but only about its reigning in our bodies, because that is the only place in a Christian where sin can operate.5
MacArthur's argument is perfectly logical, if we accept his premise. Since the believer's "immortal soul is forever beyond sin's reach"—after all "sin is not the product of our new self" and "our new nature is actually divine"—there remains only one location left for sin to dwell—the body with its "brain" and "thinking processes." Sin is not to be located in the believer's immaterial being, his soul or spirit, but only in the physical body. But all this assumes MacArthur's premise, that the believer's immaterial part, his soul and spirit, is sinless. This is far afield from orthodox theology, but it is in perfect agreement with the radical dualism of the Greek philosophical tradition, which viewed the body as inherently evil. To be fair, MacArthur disavows any connection with that tradition,6 but, unfortunately, his denials cannot overturn his clear statements to the contrary.
We might ask ourselves how MacArthur could have wandered so far from the way of orthodox theology. Here one can only speculate, but if we read enough of MacArthur on this subject, it soon becomes clear how indebted he is to the teaching of John Murray on the old-man/new-man contrast, to which we have previously referred.7 Murray correctly demonstrates, as we have previously explained, that the old-man/new-man contrast is not the same as the old-nature/new-nature contrast, but that the old man is the unregenerate person as a whole, while the new man is the regenerate person as a whole. It is this understanding of the old man/new man that appears to be behind MacArthur's thinking:
The old man, the old self, is the unregenerate person. He is not part righteous and part sinful, but totally sinful and without the slightest potential within himself for becoming righteous and pleasing to God. The new man, on the other hand, is the regenerate person. He is made pleasing to God through Jesus Christ and his new nature is entirely godly and righteous.8
What MacArthur has apparently failed to grasp from Murray is that although Murray said "the believer is a new man, a new creation," he went on to add that "he is a new man not yet made perfect. Sin dwells in him, and he still commits sin."9 And, more importantly, when Murray said "sin dwells in him," he meant the believer's immaterial being, not his body.10 The believer is a new man in whom sin dwells, not in his body but in every aspect of his immaterial being.
But perhaps there is another source for MacArthur's view of the sinful body. After all, does not Paul himself speak of "our body of sin" (Rom 6:6) and "putting to death the deeds of the body?" (Rom 8:13). Orthodox theology has always rejected any interpretation of these statements which would suggest that sin resides in the corporeal. There are two ways in which Paul's language might be explained. If, on the one hand, Paul does in fact mean the physical body in these verses, then the genitive modifier ("of sin") would not mean that the body is inherently sinful but "that the body is particularly susceptible to, and easily dominated by, sin."11 This would seem to be Ladd's explanation:
The body is not only weak and mortal but also an instrument of the flesh. Sin and death do not, however, reside in corporeality itself or in the natural body but in the flesh. Since sin can reign in the mortal body (Rom 6:12), the body viewed as the instrumentality of sin can be called a sinful body (Rom 6:6); and therefore the person indwelt by the Spirit must put to death the deeds of the body (Rom 8:13). This, however, is not mortification of the body, itself, but of its sinful acts.12
Another possibility, not unrelated to the first, is that Paul is using the word body (σῶμα) metaphorically to refer to the whole person, a figure of speech called synecdoche—"a part for a whole." This clearly seems to be the case in Romans 6:12–13, where Paul tells his readers, "do not let sin reign in your mortal body" and "do not go on presenting the members of your body to sin," but, on the contrary, "present yourselves to God." In these verses "yourselves" is equated with "body" (cf. also Rom 12:1–2). Thus it is the person who indwells the body who is sinful, not the body itself. Whichever way we may view Paul's language, it is clear that the Bible does not teach that the body is inherently evil but that sin resides in man's immaterial being, not his physical; yet the body is where we commonly see the outworkings of sin.
However MacArthur arrived at his view, the "good-natured believer" as he calls it in one place, it is clearly out of step with orthodox theology and a proper understanding of the one-nature view.
Conclusion
I have sought to demonstrate that it is perfectly valid to speak of the believer as having two natures—old and new—as long as the term nature is understood to refer to a complex of attributes, a set of characteristics, or disposition. These natures are not substantive entities and do not act. But the believer himself can be viewed as acting from the perspective of his old or new nature—his disposition may be toward sin or holiness. While some two-nature advocates have used two-nature terminology to present a view of sanctification which is inherently defective, the fault lies with their deficient theology, not with two-nature terminology itself. Two-nature terminology combined with a proper understanding of regeneration and sanctification accurately represents the believer's struggle with sin as presented in Scripture.
Notes
---
Bill Combs serves as Academic Dean as well as Professor of New Testament at Detroit Baptist Theological Seminary, where he has been teaching since 1983. He earned his BA at Tennessee Temple University, and his MDiv and ThM degrees at Temple Baptist Theological Seminary. He holds a ThD from Grace Theological Seminary. Dr. Combs has also served in pastoral ministry. He and his wife Pansy are members of Inter-City Baptist Church in Allen Park, MI.
826 reads
10343 reads