Read Part 7.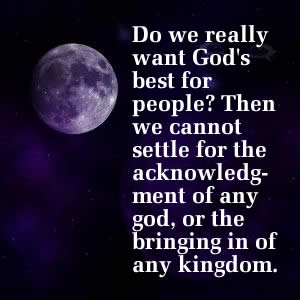 At Jesus' triumphal entry into Jerusalem, multiple thousands of Jews "began to rejoice and praise God with a loud voice for all the mighty works that they had seen" (Luke 19:37 KJV).
But again, as with the 5,000 by the Sea of Galilee, out Lord was not deceived! When He saw the city, He "wept over it, Saying, If thou hadst known, even thou, at least in this thy day, the things which belong unto thy peace! but now they are hid from thine eyes" (Luke 19:41-42).
For these people, like Nicodemus, believing in ID – or even DM (divine miracles) was not sufficient! Within hours, this same adoring crowd would be persuaded by their leaders to cry out to the Roman governor: "Crucify Him, crucify Him" (Luke 23:21; cf. Matt. 27:20-26).
Do we really want God's best for people? Then we cannot settle for the acknowledgment of any god, or the bringing in of any kingdom. With His help, by the illuminating and convicting work of the Holy Spirit, we must lead people to Him alone, because He insisted: "I am the way, the truth, and the life: no man cometh unto the Father, but by Me" (John 14:6). If we accept His perfect redemption on the cross, confirmed by His bodily resurrection from the dead, He will take us all the way to the Father in heaven, and to a full experience of the kingdom He has promised.
The reasons for massive, yes, global human resistance to God's truth are clearly set forth in the Bible. The apostle Paul wrote: "For we wrestle not against flesh and blood (i.e., mere human minds and hearts), but against principalities, against powers, against the rulers of the darkness of this world, against spiritual wickedness in high places" (Eph. 6:12). He is referring here, of course, to Satan and his vast demonic armies, to whom Adam surrendered his God-given dominion at the fall (see Gen. 1:26; 3:6).
In spite of the stupendous reality of Satan's judicial defeat by Christ at the cross (John 12:31; Col. 2:15; cf. Gen. 3:15), Satan is still (temporarily) "the prince of this world" (John 12:31), and he "as a roaring lion, walketh about, seeking whom he may devour" (1 Pet. 5:8).
Until Christ returns to establish His kingdom, "the whole world lieth in wickedness" (1 John 5:19). Thus, "if our gospel be hid, it is hid to them that are lost: In whom the god of this world hath blinded the minds of them which believe not, lest the light of the glorious gospel of Christ, who is the image of God, should shine unto them" (2 Cor. 4:3, 4). If people do not want the true and living God in their lives, they have help from the unseen world of evil spirits to suppress this truth (cf. Judas Iscariot, John 13:21-30). The Intelligent Design Movement, of course, officially ignores this biblical perspective.
Another enormously important reality that plays no part in the basically secular IDM is believing prayer. The Lord Jesus Christ promised His disciples: "Whatsoever ye shall ask in My name, that will I do" (John 14: 13).
The qualification here, of course, is the expression, "in My name." This means that we must pray for things that are in harmony with His will (cf. John 15:7, 16; 16:23), just as the Lord Jesus Himself said to His Father when facing His wrath as man's substitute upon the cross: "Nevertheless not My will, but Thine, be done" (Luke 22:42).
Praying for the spiritual conversion of people is in His will, because He is "not willing that any should perish, but that all should come to repentance" (2 Pet. 3:9).

Dr. John C. Whitcomb is president of Whitcomb Ministries, Inc., and founder and professor of Christian Workman Schools of Theology. He has taught the Old Testament and theology for more than 50 years, and is widely recognized as a leading Biblical scholar.