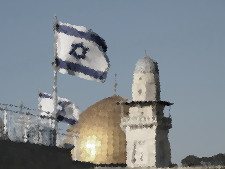 Read Part 1 and Part 2.
Modern historians and philosophers are at a loss to adequately account for the survival of the Jewish people. Their experience simply does not fit the theories and human explanations. One of the greatest historians of all time was Arnold Toynbee whose classic twelve-volume work, The Study of History, traces the rise and inevitable fall of twenty six civilizations.
In spite of all his brilliance, Toynbee could not adequately explain the phenomenon of the "Jewish civilization." According to his philosophy of history, civilizations rise and then they eventually fall, never to rise again. Jewish history, however, did not fit into Toynbee's scheme. Yes, they rose and then they fell. But they continued after their fall and 100 years later even began to return to their ancient land where they re-constituted their national existence, even bringing back their ancient language from the dead. No other civilization in history has ever accomplished this!
The problem with Toynbee's inability to comprehend the explanation of Jewish survival lay in his unwillingness to consider the promises of God's covenant with Israel as the reason for their continuity. It is at this point, therefore, that we must return to Jeremiah's promise of Israel's perpetuity. The Lord God declared through His prophet that Israel will never cease being a nation forever (Jer. 31:36). That promise has been wonderfully fulfilled in the preservation of the Jews through their own dark night of suffering. No other explanation is adequate. Toynbee, therefore, referred to the Jews as "fossils of history." A fossil is an object from long ago that really should not be here today, but is somehow "frozen in time"—out of place, but still here nevertheless.
From a human viewpoint, it is true that the Jewish people shouldn't be here. With all that they have endured, they should have disappeared long ago. More magnificent civilizations such as the Assyrians, Hittites and Babylonians have each been assigned to the dustbin of history. But, in the familiar words of an Israeli folk song, "Am Yisrael Hai" ("the people of Israel lives!").
Their persecutors and murderers have vanished from the stage of human history, but little despised Israel keeps playing its role in the cosmic drama of the Divine. And Israel will continue to do so, not because of their cunning, savvy or wit, but because of the promises of God.
The great Prussian Emperor Frederick often would test his Chaplain with theological questions. Frederick, however, said that he did not have time for long answers and explanations. He wanted simple answers that could be quickly comprehended. Once he asked his Chaplain if he could provide evidence for the truth of the Bible. But, he added, he wanted a simple proof. Could he, Frederick asked, provide the evidence in just one word. The wise chaplain responded that he could do just that. "What is this magical word?" Frederick asked. The Chaplain replied, "Israel, your majesty, the people of Israel." It would be difficult for any of us to offer a better proof for the accuracy and Divine authenticity of the Word of God.
[node:bio/will-varner body]