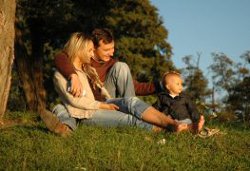 Spring is close at hand! Though the winter was mild, we find ourselves yearning to shake the bonds of our winter domiciles and romp free in a sun-bathed world of lush vegetation and balmy temperatures. The heavens locked in wintry gray are already giving way to azure skies arrayed with billowing clouds of cottony-white. This means that prime exploration season is just around the corner!
I now refer to excursions into nature as "field trips." Years ago I referred to them as "family vacation." But with three teens and a tween in our home, I've learned the importance of truth in advertising. The kids protested that dad's definition of "vacation" left scant room for lazy repose and frivolous entertainment. Our so-called "vacations" were chock-full of things like forced marches, challenging sleeping conditions, and unmitigated exposure to fresh air and rugged earth. Guilty as charged! So I changed the nomenclature to "field trips," which I contend offer substantial benefits. Tremendous rewards accrue to those willing to leave behind the hustle and bustle of everyday life and explore the wild wonders of nature.
God's glory
First, exploring nature is a singular means of witnessing the glory of the God who created heaven and earth. From pole to pole "the heavens declare the glory of God, and the sky above proclaims his handiwork" (ESV, Psalm 19:1). Nature is a canvas on which God reveals His splendor and power (Rom. 1:19-20). To explore nature is to cavort in the cathedral of God's creative artistry and design: climbing mountains and basking in the vistas below; hiking rugged trails under the leafy boughs of towering trees; exploring waterfalls that tumble with violent force into murky basins; frolicking in the ocean's surf to the symphonic strains of crashing waves and screeching gulls; watching the sun set across a placid lake as loons echo their haunting cry; trudging upland against the flow of a gurgling creek; exploring the dank, earthy splendors of a cave; star gazing in a remote field unspoiled by the glow of city lights; being mesmerized by the dancing flame of a cracking campfire as the wind stirs the chords of pine needles overhead. Such explorations into nature enrich and stabilize the soul, particularly when such wonders are received as a gift from nature's Artificer (Gen. 1:31).
Adventure
A second reason to explore nature is for the pure adventure of it all—for the enriching opportunity to unloose ourselves for a time from the largely predictable world of our ordered lives. Getting out into nature is not necessarily safe or calculable, and that elevated level of risk heightens the experience. As you venture down a trail, river, or uncharted road, you do not know precisely where it will lead or what wonders you may discover along the way. As you camp for the night, you cannot predict the weather or how critters might respond to your presence in their living room.
As a society we specialize in minimizing risk and maximizing assured outcomes. Field trips permit us an honorable escape from controlled environments and routine. Venturing into the wilderness provides experience in flexing to meet unpredictable challenges and yields the unparalleled joy of discovering unanticipated wonders. Such opportunities are incalculably profitable for the soul.
Unplugging
A third reason to explore nature is that it provides the opportunity to unplug from technology. When our family takes a field trip we go off the grid. No cell phones. No texting. No laptops. No recorded music. No video games. Unplugging from such technologies serves to open the eyes to nature's beauty and unplug the ears to nature's song. Periods of freedom from the siren cry of mesmerizing technologies permits the soul opportunity to rejuvenate. It allows the sage wisdom of nature's whispered sermons to be heard and heeded.
Not to fear, mom and dad bring cell phones for medical emergencies, coordinating purposes, and roadside assistance. But we keep our phones off until necessary and make it a point to journey outside the range of service on occasion. Some people see ventures beyond cell phone service as irresponsible. Some people need to learn to live a little! Many wonders of nature are accessible only to those willing to abandon their tether to communicational technologies. Younger generations in particular need to be taught that life exists beyond the reach of cell towers and that it is worth the effort to purposefully go there on occasion.
Life's journey
Fourth, field trips designed to venture into the wonders of nature serve as a prophecy of life's ultimate journey. One day each of us will go off the earth-grid and enter the presence of our Creator. Life is preparation for that ultimate journey, and Jesus Christ the only guide to the eternal kingdom—to the world in which wonders beyond imagination await those who have been freed from the penalty of sin by His saving grace (John 14:1-6, Heb. 9:27-28, Rev. 21:1-22:5). Exploring nature reminds me that I am a pilgrim in search of another world.
As I continue discovering natural wonders in this world, I am reminded of the splendors that will abound on a renewed planet redeemed from its bondage to corruption (Rom. 8:20-22). If this fallen world yields such pleasures, imagine what joys a renewed earth will yield! And so I continue to explore this fallen globe with childlike curiosity, driven by a keen anticipation of wonders yet to come.