Help, I've lost my password!
Click Login on the menu on the right side of the header (above the search box). 
On the login form, click the Request new password tab.


Enter your username or your account email address and click E-mail new password. (You'll receive an email with a random password and instructions for logging on and changing your password to something more friendly).
---
Flagging a post for Moderator attention
Look for "flag this" in the lower right corner of the post. If you hover your mouse pointer over the text, a pop-up tool tip will tell you how many Moderator Attention flags the post already has. When you click "flag this," the text changes to "MA flags:" and displays the total number. You can remove your flag by clicking the "MA flags:" link text. When it changes back to "flag this," your flag has been removed.
Moderators monitor the flagged posts queue and follow up. It's likely that you'll be contacted either to find out what concerned you or to report on action taken.
You can also report concerns about posts using the Contact link in the site header.
---
Reporting technical or other site problems
Two options are available for reporting problems. The first is to use the Technical Issues forum. The other is to use the contact form and select the appropriate category on the form.
---
Viewing your post history & that of other members
Look for the History tab on profile screens. Your own History tab displays links to your posts and flags threads "new" if there has been activity there since you posted. To view others' posting history, go to their profiles and click their history tabs.
---
Using search
The search box is in the header on every page. The process is the same whether searching for keywords in articles or forum posts or if you're looking for a user. Just enter the key words or username and click search.
When the results appear, note the tabs at the top. Click the Users tab to find users matching your search term. Click the Content tab for everything else.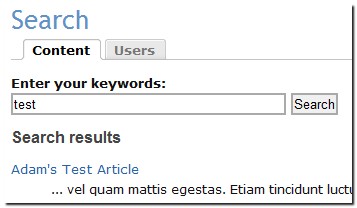 ---
Using bookmarks
Bookmarking is a way to easily find your way back to content that interested you without necessarily subscribing or posting.
Just click the "bookmark" link at the bottom of the article or thread-topic post. 

(It is not possible bookmark comments in a thread at this time.)
A message will appear indicating that the item has been added to your bookmarks.
To view your bookmarks, click the Bookmarks tab in your profile. Note: your bookmarks are visible to other members who visit your profile.
---
Coming soon…
Link to FAQ
Using Privatge Messaging
BBCODE in forum posts
637 reads