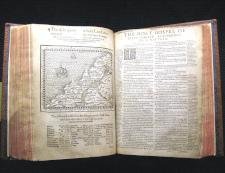 In a previous blog post, I surveyed the highlights of statements made by presidents of the United States regarding America's efforts to be a blessing to the Jewish people and the nation of Israel.
Our nation has a rich legacy of support for Israel, for which we should be very thankful. Many have conjectured that this may ultimately be the reason that God has blessed the United States so abundantly over the course of so many years.
This begs the question: What is the source of this centuries-long focus on Israel? What was the foundation that gave rise to this concept of support for Israel, which—despite the winds of political change—has endured consistently throughout our history?
Our historical search for the answer to that question must take us back to the 16th century and the city of Geneva, Switzerland, where English Reformers gathered after fleeing the persecution advanced by Bloody Mary Tudor, who ruled in England from 1553 to 1558. A number of these men (including Miles Coverdale and John Foxe) congregated in the city where John Calvin preached and there—for the first time in history—translated the Bible completely from the original languages into English. The work they produced is called the Geneva Bible.1
2405 reads