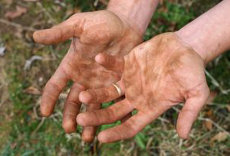 I've always preached that all honest work is God-glorifying and that the opportunity to engage in labor and reflect God's character through it is a great privilege. Over the years, I've also emphasized that if you're doing the work God wants you to do, however "secular" it may be, you shouldn't stoop to do anything else. Even vocational ministry is a demotion if it's not what God wants you to do.
As a pastor, these ideas were relatively easy to affirm. The logic is simple. The best thing any man can do at any time is to obey God. Therefore, if God wants him to sell soap, or make pizza, or drive truck, or mop floors, that activity is the best thing he can do. And if that work is best for him, all other work is inferior.
But when you're post-pastoral, these principles can be a bit harder to hold with conviction—especially if you loved your pastoral work, prepared thoroughly for it for almost a decade, and still believe it's what you do best. But sometimes even guys with seminary training and clear evidence of giftedness for ministry can find themselves facing clear direction from God to "do something else until further notice."
And when that happens, they struggle to find meaning and purpose in the work they find to do.
4084 reads