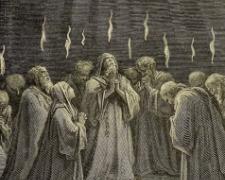 Reposted from It Is Written. Read the series.
Wayne Grudem's argument for the continuation of New Testament prophecy and tongues today depends, in part, on a distinction he makes between OT canonical prophecy and NT congregational prophecy. In the case of the former, divine inspiration extends to the prophet's words. Thus, the utterance is infallible and absolutely authoritative. But in the case of the latter, divine inspiration only extends to the prophet's mind. Hence, the prophet's words may or may not accurately capture the revelation imparted to the mind. As a result, NT prophecy is fallible and relatively authoritative.
To support this thesis, Grudem offers two main lines of argumentation: first, he highlights what he believes to be examples of fallible NT prophets. Second, he appeals to NT texts that call for the evaluation of NT prophecy as proof that such prophecy is less than fully inspired and divinely authoritative.1 This article will attempt to demonstrate that Grudem's arguments are inconclusive and unconvincing.
Fallible NT Prophets?
Grudem's examples of fallible NT prophets are inconclusive.
1. The NT Prophets in Tyre (Acts 21:4)
Let's consider Grudem's appeal to Acts 21:4. The verse, in its larger context, reads as follows:
888 reads