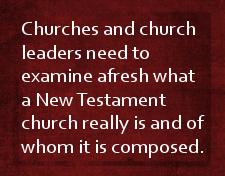 From Faith Pulpit, Fall 2014. Used by permission, all rights reserved. (Continued from Lessons from the Reformation.)
The same conflict we saw in the Reformation can be seen in contemporary Christianity in North America and the rest of the world. Pastors in Baptist circles today (or heads of institutions or agencies) have choices to make when trying to expand and extend the influence of their church in the community or the constituency of their organizations. Aiming for unity (lowest common denominator of beliefs and/or holy living) will most often result in larger numbers of people, but it does not produce the fruit one might desire.
Martin Bucer typifies this struggle from the Reformation. He not only tried to achieve unity (reaching as many people as possible), but he also retained a passion for the purity of his church members. As he discovered, he could not have both. In trying to reach greater numbers, he had to dilute his message. Under Bucer's leadership (and the other Reformers), churches were little different from the world. Church membership was granted at birth, and requirements to keep it were not enforced. Holy living was not essential.
1839 reads