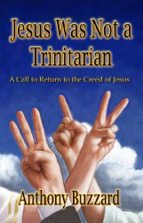 Sir Anthony Buzzard is a Unitarian theologian and founder of Restoration Fellowship, a movement dedicated to proclaiming (among other things) the allegedly Unitarian creed of Jesus.
In this excerpt from his book, Jesus Was Not a Trinitarian, Sir Anthony explains why Jesus' explanation from Mark 12:28-29 is so important to understanding the Unitarian view of God, and why the doctrine of the Trinity is allegedly false:1
May I invite you to join me in an exploration of a massively important episode in the teaching life of Jesus. This occurred towards the end of his short, strenuous itinerant ministry as a teacher and preacher of the Gospel of the Kingdom of God. It is an event with the potential to affect dramatically your journey of faith — an event able to change radically the way we think about our Christian faith.
2724 reads