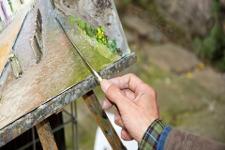 (Read the series so far.)
Almost in the perfect center of the north end of the city of Paris, the hill of Montmartre and its grand white Cathedral of "Sacré-Cœur" (Sacred Heart) seem perched above the city. From the church you are afforded one of the most magnificent views of the "city of lights" that doesn't require going up in a rickety elevator on an old "erector set" called the Eiffel Tower.
Montmartre is noted for several things, but probably best known for the quarter's daily working street artists. Gathered near the square due west of the church, these artists sit in front of easels painting either in oils or watercolor, while others around them are sketching, chalking and creating in a host of artistic media.
Though I could not do what they do, I confess that I love to walk around and see artists at work.
1362 reads