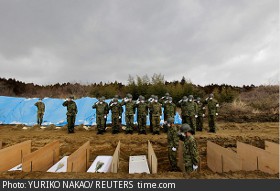 I preached a sermon recently about why God allows disaster, and that sermon is the basis for this article. I present this to my Sharper Iron brothers and sisters knowing that many of you are far more learned than I, particularly in the realms of philosophy and apologetics. I do not claim to be in the same league as C.S. Lewis or other great thinkers. So I encourage you to enjoy this article for what it is, a relatively simple (but practical) explanation of disaster, tragedy, and evil in the world based upon key Scriptures.
As a pastor, one of my most challenging responsibilities is to comfort the grieving. People can suffer in horrific ways. But one need not be a pastor to observe or experience these sad realities: life has a way of educating us all.
The earthquake and tsunami that hit Japan killed thousands and left multitudes in utter despair. Many of us are praying for the survivors and contributing toward relief to this once great nation now in shambles.
4679 reads