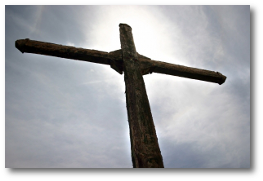 Republished with permission. Originally appeared in Think on These Things, (Dec.-Jan 2010-2011). Read Part 1 and Part 2.
New Testament Support for Penal Substitutionary Atonement
As Our Substitute
We will begin by surveying some of the New Testament references that speak of Christ dying as our substitute. 2 Corinthians 5:21 heads the list: "He made Him who knew no sin to be sin on our behalf, so that we might become the righteousness of God in Him." Some have termed this "The Great Exchange" as the Sinless One took our sin upon Himself and gave us the righteousness of God. The implication is that this spiritual transaction is made possible only through the sacrifice of Christ. I Peter 2:24 adds detail, "He Himself bore our sins in His body on the cross, so that we might die to sin and live to righteousness; for by His wounds you were healed." Christ then became sin on our behalf (i.e. in our place) at the Cross, for it is there that He bore our sin in His body. He did so to free us from sin and bring us righteousness, but our healing was made possible only because of His wounds. I Peter 3:18 reiterates the same thought by saying, "For Christ died for sins once for all, the just for the unjust, so that He might bring us to God…" In Roman 5:8 Paul writes, "But God demonstrates His own love toward us, in that while we were yet sinners, Christ died for us." Christ death was "for us." His death accomplished what nothing else could. Jesus Himself speaks of penal substitution when He states that He came "to give His life a ransom for many" (Mark 10:45). And John the Baptist declared Jesus "the Lamb of God who takes away the sin of the world" (John 1:29).
4778 reads