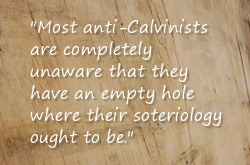 It has become a bit routine:
Email arrives from someone assuming I am (or everybody at SharperIron is) a Calvinist.
Email poses question believed to be incriminating of Calvinists or unanswerable by them.
Response from me offers biblical answer that is not especially calvinistic.
Questioner ignores most of the particulars, broadly condemns "Calvinism."
Discussion becomes repetitive, overly heated or both, ends.
A recent example appears below, with details removed to avoid identifying the sender. I'm including the exchange because, this time around, a reality hit home to me that hadn't before: apparently, many fundamentalists think that anti-Calvinism is a complete doctrine of salvation.
But anti-Calvinism is, at best, a thoughtful rejection of one particular doctrine of salvation. More commonly, it's nothing more than a feeling of hostility toward doctrines only partially understood. As a result, many anti-Calvinists have no coherent doctrine of salvation at all. They have rejected lasagna from the menu but have walked away without ordering any alternative.
14942 reads