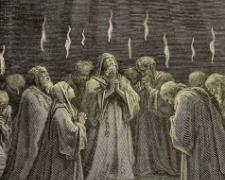 Reposted from It Is Written. Read the series.
Elsewhere we have argued that the canon of the Old and New Testaments is closed.1 If it can be demonstrated that the revelation of NT prophecy and tongues belongs to the same category as the revelation of Scripture and if we grant the cessation of Scripture revelation, then I think we're forced to conclude that NT prophecy and tongues have ceased. Continuationists, like Wayne Grudem, concede the force of this argument. Grudem writes, "Now if New Testament congregational prophecy was like Old Testament prophecy and New Testament apostolic words in its authority, then this cessationist objection would be true."2
It is for this reason that Grudem and other continuationists are forced to argue for a distinction between the revelation of Scripture and that of NT tongues and prophecy. Since Wayne Grudem is a leading exponent for this position, we will examine his basic arguments for a distinction between canonical prophecy and NT congregational prophecy.3 Then we will attempt to offer a biblical refutation, demonstrating that NT congregational prophecy belongs to the same class of revelation as Scripture.
4446 reads