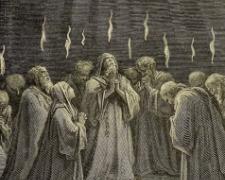 Reposted from It Is Written. Read the series.
In the last installment of this series, we considered Wayne Grudem's argument for a distinction between the canonical-level1 prophecy of the Old Testament and the congregational-level prophecy of the New Testament. The former is fully inspired, infallible, and authoritative. The latter is semi-revelational, fallible, and only relatively authoritative. As we saw, Grudem bases this distinction primarily on two lines of evidence: first, examples of fallible NT prophecy and, second, commands to assess the authenticity of NT prophecy.2
I have five lines of response to Grudem's arguments by which I will attempt to show that the Scriptures do not support Grudem's distinction between an infallible OT canonical prophecy and a fallible NT congregational prophecy. In contrast, the data of Scripture seems to place NT prophecy in the same divine and authoritative category as OT prophecy. We'll consider the first three lines of response below.
The Nature of Old Testament Prophecy
The nature of OT prophecy is highlighted in three key passages.
Exodus 7:1-2
Here, Yahweh declares to Moses,
1844 reads