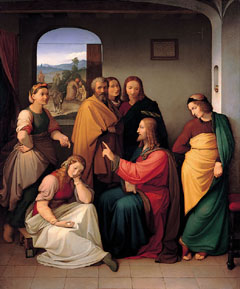 The popularity of The Da Vinci Code has forced Christians to realize that their beliefs are open to challenge. As a result, many Christians are interested in subjects that used to draw yawns. A few years ago, no one wanted to hear about the Gnostic Gospels and why we reject them, for example.
One issue raised by The Da Vinci Code is Jesus' relationship to women. We can easily surmise that the Mary Magdalene nonsense of The Da Vinci Code is bogus, but what was Jesus' real attitude toward women?
On the one hand, He established the church by training her basic leaders, the apostles. Only men were chosen as apostles, and the concept of male leadership in the church is consistent throughout Scripture: the Old Testament priests had to be male (according to Moses) and Paul teaches that church leaders who teach doctrine or Bible to men must be male, as must elders (1 Tim. 2:9-15, 3:1-2).
On the other hand, God used prophetesses as a channel of divine communication (e.g., Miriam, Deborah, in the Old Testament and the daughters of Philip in the New), and both men and women were encouraged to prophesy in the early church (1 Cor. 11:3-11).
Most of us understand that the reasons for these restrictions on leadership have nothing to do with competence or ability. Most of us know strong, capable godly women who have mastered the Word, as well as not-so-godly Christian men who have not. Nor are these restrictions justified on the basis of ancient culture (and thus no longer relevant). Instead, they are anchored to the order of creation and the events of mankind's fall into sin (see 1 Tim. 2:9-15), past events that do not change (as does culture). The leadership of men in the home or in the church rises or falls together since they are mandated with similar justification. However, it takes quite a stretch to translate this concept into the political or work world.
5448 reads