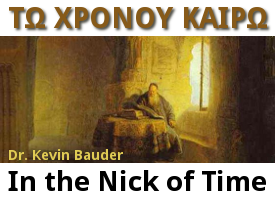 Read Part 1.
A Qualified High Priest
Suppose you knew that someone was hidden around a corner, but you could see the shadow. If you really wanted to know something about the person, you could learn a good bit by examining the shadow. The shadow would reveal the outline of the person, but the revelation would be limited. It would lack details and it would probably distort the form. One thing you would know, however. The head of the shadow would correspond to the head of the person, chest to chest, knees to knees, and wherever the feet of the shadow ended, the feet of the person would begin.
The Old Testament high priests functioned as shadows of Christ. They gave people a glimpse of an outline that they would never otherwise have seen, even though they distorted the particulars. How could the details not be obscure when finite and sinful men were used to foreshadow the priesthood of Jesus?
Hebrews 5 is structured like a shadow that leads to a person. The shadow—the Levitical high priests—appears in the first four verses. Point by point, the writer describes certain essentials of their priesthood. Beginning in verse five, however, the reality appears, and the reality is Jesus Christ. In a striking mirror image, the writer reverses the same points that he has already covered, using them to explain the priesthood of Jesus. Along the way, the writer teaches an important lesson about the incarnation.
The point at which the shadow switches to the reality occurs in verses 4 and 5. That comparison has to do with the authority for high priesthood. First, the writer reminds his readers of what they all knew, namely that no one takes the honor of high priesthood for himself. Only those who are called by God can be priests.
493 reads