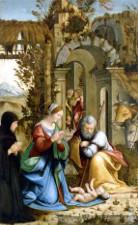 Every year it becomes sadly apparent that fewer and fewer Americans understand what Christmas really means.
Christmas is an international celebration of a moment in history on planet Earth when God's eternal Son, whom we know as the Lord Jesus Christ, became a genuine and permanent member of mankind in order to die for our sins upon a cross.
The key word is love—not our love, but God's love. In spite of our profound selfishness, pride and indifference to the claims of a holy and loving God, He—not willing that any should perish—provided the perfect sacrifice, the Lamb of God, to die in our place—as our substitute, our divine and sinless representative—and to rise from the dead.
Christ (the Messiah) was born in Bethlehem of Judea and raised in Nazareth of Galilee 2,000 years ago. He was sent into the world by God the Father because of His love for human beings.
1139 reads