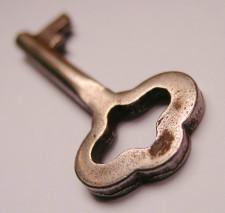 A sermon preached at Calvary Baptist Church in Simpsonville, SC in 2016.
Isaiah 22, Revelation 3:7-13
Imagine with me that on Christmas morning, one of the gifts you receive is a small box. You hold it in your hands, and it isn't very heavy. You shake it and it rattles a little. You know that good gifts come in small packages, so you tear off the paper with anticipation. Inside you find a key. Would you be excited?
What thought goes through your head? "What does this key fit?" It could be the key to a car. That would be a nice gift, wouldn't it? It could be the key to a boat, or a Wave Runner, or a four-wheeler, or maybe a snowmobile. (That wouldn't be so exciting in South Carolina, more so in Iowa where I live now.)
The point is, you know that the key itself is not the gift. The key represents the gift, and it gives you ownership of the real gift and the ability to use the gift, whatever it is.
The Bible talks about a key that is associated with our celebration of Jesus Christ's birth. Three different people are said to have this key. The key represents authority and control. Each person uses the authority and control that comes with the key differently.
As we look at what the Bible says about this key, see if you can think of how it connects to Christmas. No Googling!
1481 reads