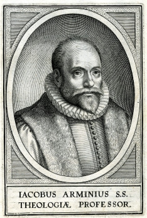 By John A. Aloisi. Reproduced from DBSJ 21 (2016) with permission. This installment continues the study of Original Sin Itself, and follows a look at the defitions of Original Sin held by Augustine and Aquinus. Read the series.
Calvin's Definition of Original Sin
John Calvin (1509–1564) unquestionably stands as one of the brightest figures in the Protestant Reformation. In March 1536, Calvin's famed Institutes of the Christian Religion was published, and its appearance set a high standard for future Reformed theologians to follow.
It has been demonstrated that Arminius owned a copy of Calvin's Institutes, and his esteem for Calvin is well known.62 In May 1607, Arminius wrote to his friend Burgomaster Sebastian Egbertsz, praising Calvin's commentaries and indicating his respect for the Institutes:
7953 reads