Editor's Note: This article is reprinted by permission from Warren Vanhetloo's Cogitations.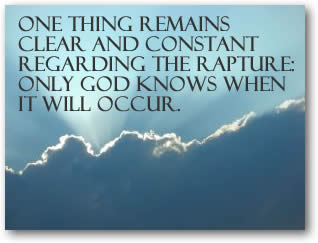 "In the last days scoffers will say, Where is the promise of His coming?" (2 Pet. 3:3-4).
Years ago, we heard a great deal of preaching about the possibility of the rapture occurring in our lifetime. As I remember, 1980 was about as long as we expected to have to wait. World affairs were such that, to our eyes, the tribulation following the rapture would soon come about. And then the world situation changed. Things settled down, and new disruptions arose. And for the last three decades, there has been little preaching on the imminent any-moment return of the Lord Jesus Christ in the air for church saints. Men's predictions and analyses failed. God's plan was not adjusted a bit. He didn't change as the world changed. So many had been so wrong; it was best to keep quiet.
We cannot today predict any more accurately than those of the last century. We can be more cautious of the conclusions we reach. The one thing we ought to avoid is that of neglecting to preach of the coming rapture just because some have overstated some things about it in the past. If it is in the Word of God, it is a part of what we are to proclaim as the whole counsel of God. From our human point of view, it is just as possible of occurring any moment now as three decades ago. We know no more of God's schedule than did our fathers or their fathers. We do have the same Scripture they had.
1073 reads