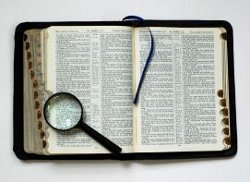 Posted courtesy of Dr Reluctant. Catch up on the series so far.
1. In this piece I shall match up more theological beliefs with these "Rules of Affinity" in order to show the negative use of those rules. I have tried to find respected sources to interact with so as not to be accused of soft-targeting. This is from G. K. Beale, A New Testament Biblical Theology, 32:
Adam was to be God's obedient servant in maintaining both the physical and spiritual welfare of the garden abode, which included dutifully keeping evil influences from invading the arboreal sanctuary…(my emphasis)
Beale gives Adam a responsibility to guard the original creation from "evil influences." But there is nothing in Genesis 2 or 3 which encourages this (the verb shamar in 2:15 can mean "guard" or "protect" and could have the serpent in mind, but nothing is said about "influences" plural). Certainly, God allowed the serpent into the Garden, but the only warning given to the man is the prohibition in Gen. 2:16-17. The serpent tempts Eve and Eve tempts Adam. It is Adam's capitulation to his wife which is given as the reason he disobeyed God's command (see Gen. 3:17. cf. 1 Tim. 2:14). Could Adam have ejected Satan out of Eden? Where is that indicated? And what of this talk of a plurality of "evil influences"? One will look in vain for such things in the texts Beale employs. We thus give the statement above a C4 rating.
5112 reads