The Gospel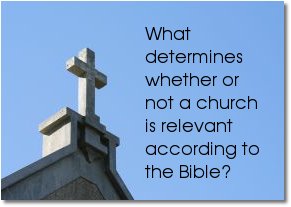 Reprinted with permission from Voice magazine (Jan/Feb 2010).
Recently I was visiting one of my elders' friends to whom he has been witnessing for about thirty years. In a three hour time period we must have presented the gospel to his friend at least five times, in different ways. His friend just nodded and agreed but never made a decision to trust Christ as Savior. I was along for the ride this time, but this elder in my church faithfully does this every Thursday and has for years.
During our ride I got at least three phone calls from people requesting financial assistance from our church. I shared with them the different non-profit groups in our community that can help them. But, and how can I say this tenderly, I had to reject their request. We have several families in our church who have fallen on hard times because the economy in Michigan is terrible and if you lose your job, they are hard to find. Three families in our church were on the verge of losing their homes and so we took a special offering through the month of July to give those families a boost. Our small church gave $2,600 in addition to our normal giving.
1236 reads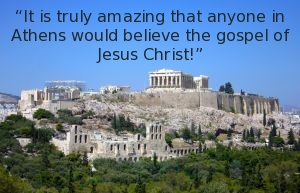 (See Parts 9 & 10)
Part 11: Repentance for Athens
Did the Apostle Paul ever appeal to Intelligent Design when he confronted unbelievers? Yes, but only in an introductory way. For example, at the Areopagus (i.e., Mars Hill) in Athens, he declared: "For in him we live, and move, and have our being; as certain also of your own poets have said, For we are also his offspring. Forasmuch then as we are the offspring of God, we ought not to think that the Godhead is like unto gold or silver, or stone, graven by art and man's device" (Acts 17:28-29, KJV).
But for the members of this city court to have agreed with Paul about the obvious fact of natural revelation would have accomplished nothing for their eternal salvation. And Paul knew this! He therefore concluded: God "now commandeth all men every where to repent," (Acts 17:30) that is, to make a radical change of heart and mind about the holiness of God and the sinfulness of man. (See also Christ's command in Luke 24:47—"repentance and remission of sins should be preached in his name among all nations;" and Paul's commission in Acts 26:20—he "shewed … to the Gentiles, that they should repent and turn to God, and do works meet for repentance".)
728 reads
Pages