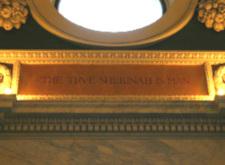 The Library of Congress in Washington D.C. is one jaw-dropper of a building. If you have an architectural bone in your body, a modicum of historical interest, or a primal appreciation of fine art, this building is an exquisite treasure. The Library of Congress is officially described as "the nation's oldest federal cultural institution … the research arm of Congress … [and] the largest library in the world." Its architectural grandeur, artistic splendor, rare holdings, and ubiquitous historical symbolism comprise an illustrious tribute to our nation.
In what is identified as the "South Mosaic Corridor," just off the "Great Hall," is located an ornate, domed ceiling. One fresco depicts a woman robed in splendor (you've seen the type: pudgy, pale skinned, bare-footed, breasts flaunted, billowing dress). Underneath this romanticized portrait is inscribed the word "Providence" (abbreviated to fit the space). Next to this fresco, occupying a space of its own, are painted the words: "The true Shekinah is man."
The ironic juxtaposition of these ornate missives bears witness to two competing orientations that continue to wield influence in our diverse culture. Adding to the irony is the precipitous drop in the percentage of American citizens who would have any idea what either statement means. At the dawn of the 20th century when these words were painted on the ceiling of the Library of Congress, they were well understood concepts. Today, they are as outdated as a rare book—and just as valuable for our consideration.
868 reads