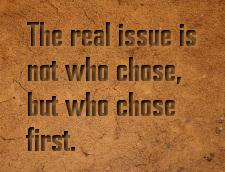 Few doctrines divide God's people like the doctrine of election. Since both the word, "election" in its various forms, plus the concept using different words is found repeatedly in the Bible, some explanation must be offered. It cannot simply be ignored.
Although there are various shades of interpretation, in the end, it boils down to two possibilities. Either election means God chose His people without reference to anything He saw in man (unconditional election), or God chose people based upon something He saw or foresaw within them (conditional election).
Since the days of the Protestant Reformation, these two concepts have resulted in two different theologies, Calvinism, which holds to unconditional election, and Arminianism which teaches conditional election. In truth, there are variations within these two camps, and some prefer to avoid either label, but there are really only two positions on election. For brevity's sake, I will use the commonly accepted historic labels.
In this article, I will examine a text that is often claimed by both sides of the debate.
Just as He chose us in Him before the foundation of the world that we should be holy and without blame before Him in love (Eph. 1:4)
2733 reads