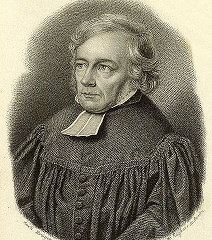 College freshmen are impressionable people. Once as a college freshman I heard a pastor who was pretty good with his Greek New Testament explain how Jesus encountered demons. The pastor interpreted the phenomenon literally. I was impressed, so I bounced my new-found knowledge off my dad.
Wrong forum! Dad was a doctor. He let me know in no uncertain terms, that whatever Jesus did, He did not heal diseases by eliminating evil spirits. That was thinking for the "quacks" and the "kooks." As we talked, our distinct belief systems had a major collision. I backed off, but for the next several months, whenever the subject came up, my father took pains to instruct the family, so that we all stayed scientifically orthodox.
That conflict demonstrates the essential difference between conservative and liberal theology. True Liberal theology began with the German scholar, Friedrich Schleiermacher (1768-1834; the term used in Germany is "Historical-critical Theology"). Schleiermacher had a great desire to defend the Christian faith and an intense interest in Bible study. He was also fascinated with European philosophy and drank deeply from the well of German idealism.
Stellar intellect that Schleiermacher was, he spent most of his student discussions talking about the Christian faith with his unbelieving intellectual friends. His first book was, On Religion: Speeches to its Cultured Despisers. Grenz and Olson say, "None strove so valiantly to reconstruct Christian belief to make it compatible with the spirit of his age."1
720 reads