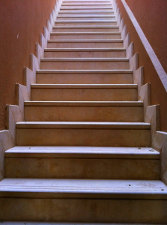 Read the series so far.
Progressive revelation relies in the first instance upon the competence of how that revelation has been communicated. To deny this point is to cast doubt upon the utility of the modifier "progressive." Revelation has to reveal or else it is not a revelation. Progressive revelation has to reveal progressively in a logically connectable way in order to be what it claims to be and to substantiate itself.
The example of the Trinity
Think about the doctrine of the Trinity. It is a classic illustration of progressive revelation. As it starts out, the Bible introduces God. Then it speaks about the Spirit of God who broods in contemplation over the unformed mass (Gen. 1:2). We get to the schema (Deut. 6:4), and we learn that the God who is "one" (echad, which can mean a plurality in unity as in Gen. 2:24) is perhaps just such a plurality in unity. Numbers 6:24-26 hints also at this, as of course do the inner discussions of God with Himself (the "let us" passages) in Genesis 1:26, and 10:7, and the occurrence of the Visitor to Abraham, who, as Yahweh called down fire and brimstone from Yahweh in heaven in Genesis 19:24. Then we read Psalm 110:1 and Proverbs 8:22-31 add to the picture of a Deity who is alone God but is not unitarian. Indeed, Messiah is given Divine attributes in Micah 5:2 and is called "Immanuel" in Isaiah 7:14 and "Mighty God" in Isaiah 9:6. Yahweh is betrayed for thirty pieces of silver in Zechariah 11:12-13.
1852 reads