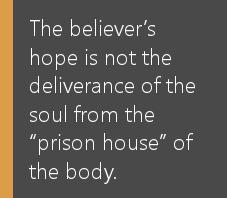 The Hebrew word נפש (nephesh) is important for the Old Testament (and biblical) doctrine of man. The term appears over 750 times in the OT and is translated in the Authorized Version most frequently as "soul," "life," "person," "creature," or "-self." It is found in all OT genres (narrative, poetry, prophecy, etc.) and may have either a literal or metaphorical sense.
Old Testament Usage
A nephesh can be living or dead. It can be counted as an individual entity or distinguished from other individual entities. A human being or an animal may be distinguished as a nephesh. When predicated of humans, a nephesh can think, feel, desire, act, and sin. One commonly finds a plea for the deliverance of one's nephesh from danger or death in the Psalms. Keeping these observations regarding the syntactic and semotactic environment of nephesh in view is essential for establishing a proper semantic value for nephesh and for developing a proper OT anthropology.
The word nephesh is predicated of human beings in primarily two ways. Less commonly, the term refers to the animating principle of a physical entity, that is, "breath" (Gen. 35:19; 1 Kings 17:21; Job 41:13) or the existential quality or state of "life" (Gen. 9:4; 19:17; Lev. 17:11; Deut. 9:23; 1 Sam. 20:1).
1730 reads