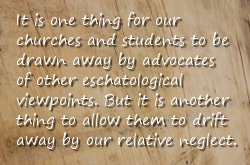 Republished, with permission, from Voice magazine, Sept./Oct 2011.
Part 1 concluded with the observation that many young evangelicals in colleges and universities have decided eschatology is not very important and that many lay people share that opinion.
Scholarly embarrassment?
Furthermore, and perhaps this is in part the cause of the point just made, it is my impression that Christian scholars, even the biblical scholars and evangelical theologians, are not all that interested in pursuing issues related to eschatology or even in advocating a particular position on eschatology. This is becoming more pervasive among premillennial dispensationalists. This may be (and I think it is) caused by the embarrassment that many of them feel when rubbing elbows with the wider scholarly evangelical community. It is something of a long-standing fact of scholarly life (nearly a "tradition") that when one enters the "serious academy," matters of eschatology are relegated to relative insignificance.1
One could recount dozens of testimonies of scholars who grew up in or were saved in churches that regarded the New Scofield Reference Bible with the highest esteem, churches that held Prophecy Conferences regularly if not annually, churches whose libraries were well stocked with the books of Chafer, Walvoord, Ryrie, Pentecost, McClain, Feinberg and the other luminaries of classic dispensationalism. But when those young scholars went off to graduate school or seminary (even evangelical seminaries) they were disabused of those resources and enlightened to the profundities of Ladd, Dodd, Bruce, Barr, and Barth (!)…and these days James Dunn and N. T. Wright among others.
19994 reads